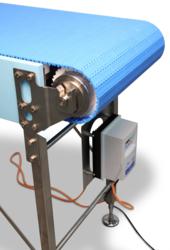 Our goal is to provide our customers with a safe, easy to clean and reconfigurable food grade conveyors.
Muskegon, MI (PRWEB) August 30, 2012
The new DynaClean™ line of belt food conveyors manufactured by Dynamic Conveyor Corporation of Muskegon, Michigan is engineered to fulfill the need for custom food grade conveyors that are easy to clean, energy efficient and reconfigurable.
The DynaClean line is designed and built to meet NSF, FDA, USDA and BISCC standards. DynaClean food processing conveyors are fabricated with stainless steel and sturdy plastic segments and driven by Interroll's 113 Synchronous Drum Motor. DynaClean segments are engineered to quickly connect with each other to create food conveyors that can be reconfigured when processing needs change.
Utilizing the synchronous drum motors allows customers the ability to clean and sanitize to an optimal level in less than half the time it takes to clean a typical geared motor or conventional exposed drive. The food conveyors include belt lifters that can be placed anywhere, ensuring easy cleaning without tools or belt removal. Utilizing DynaClean food processing conveyors allows food processors the opportunity to increase profitability whilst reducing carbon emissions, water consumption and waste water.
"Our goal is to provide our customers with a safe, easy to clean and reconfigurable food grade conveyors. The Interroll Synchronous Drum Motor met our needs when it came to selecting a power unit because it is easy to clean, self-contained, and fits well with our modular platform. Its low energy consumption and overall hygienic design are real benefits to our customers" said Ms. Jill Batka, President of Dynamic Conveyor Corporation.
DynaClean's first installation using the synchronous drum motor was completed in July in a start stop application conveying granola at a bakery. Dynamic Conveyor has become Interoll's first major US OEM to start a product line from scratch using Interoll's most advanced drive technology.
For more information about DynaClean food conveyors, contact Dynamic Conveyor Corporation, 5980 Grand Haven Road, Muskegon, MI 49441; phone (800) 640-6850; or visit the web site http://www.DynamicConveyor.com.