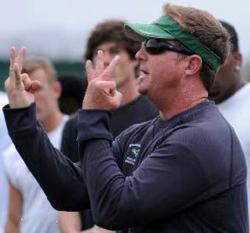 San Rafael, CA (PRWEB) March 09, 2012
Directing the University of San Diego summer football camp is Head Football Coach from Grossmont College, Mike Jordan. Coach Jordan and his staff exemplify the quality of coaches you will find at any of our Contact Football locations this summer as campers work on conditioning, fundamentals and technique at individual positions. In the late 80's he quarterbacked a team that later played in the SD Bowl and was given all conference and all state honors. He accepted a scholarship to San Jose State and then upon graduation joined the Grossmont teaching and coaching staff.
Mike de Surville, Vice President of US Sports Camps and operators of the Contact Football Camps stated, "We are thrilled to announce our 2012 dates at the Unversity of San Diego lead by football Coach, Michael Jordan. We look forward to the start of this camp and are confident that this site will be the premier contact camp in Southern California."
As with all Contact Football Camps across the country, campers have the opportunity to train each day, work hard, improve, make new friends, and have fun. Each athlete is encouraged to develop new skills and achieve a new level of play and self-confidence. "Contact" is introduced in a slow, gradual progression with campers being divided according to age, weight and ability. Instruction (3 times a day) take place on the Manchester Valley Athletic Field, which is a multi-purpose facility that serves as the practice field for the USD Football and Soccer programs, as well as Rugby, Intramurals, and recreational softball. Campers are housed and eat their meals on campus in a dorm style setting.
About Contact Football Camps and US Sports Camps
Established in 1977, Contact Football Camps enters its 37th summer operating full contact summer youth football camps for young players aged 8-18. Thousands of our previous football campers played, or are now playing college football (many at schools represented by our coaching staff).
US Sports Camps (USSC), headquartered in San Rafael, California, is America's largest sports camp network and the licensed operator of NIKE Sports Camps. The company was started in 1975 with the same mission that defines it today: to shape a lifelong enjoyment of athletics through high quality sports education and skill enhancement.
Players, Coaches, Parents and others interested in Contact Football Camps can visit http://www.contactfootball.com or call 1-800-433-6060.