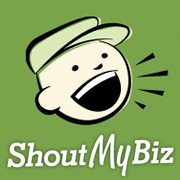 "ShoutMy.biz is a great way we can arm organizations with the tools they need to flourish in our competitive web world." - CEO of Formstack, Chris Byers
Indianapolis, IN (PRWEB) January 31, 2012
Formstack, the leader of online form building, has launched its latest digital product - ShoutMy.biz. This new tool offers businesses an easy way to create online profiles without the hefty labor, or price tag, that goes into building a website. And best of all, it's free.
ShoutMy.biz, unlike competing platforms, doesn't mark itself as a website or landing page builder. It offers quick, sleek and professional looking profiles for small businesses, allowing for a controlled online presence with ease. No monthly subscriptions and no unique coding or url's needed.
"Small businesses have always been our focus," Chris Byers, Formstack CEO, said. "ShoutMy.biz is a great way we can arm organizations with the tools they need to flourish in our competitive web world."
While the number of small businesses online continues to grow, there are still millions who do not have an online presence, let alone a website. ShoutMy.biz is perfect for local brick and mortar stores, restaurants, beauty salons, freelancers and more, who want a professional online profile including their business information, operating hours, and social profiles, in a sleek, one-page profile.
With a ShoutMy.Biz profile, users can:

Display location via Google Maps
Pull reviews from Yelp
Share Facebook and Twitter streams
Customize with a number of templates and photos
As a product of Formstack, ShoutMy.biz allows users to include a simple contact form to collect information. The data entered will be sent to their email address. With this option, users will not only be able to share information, but also collect it from their potential customers.
Formstack currently offers its online form building service in 110 countries to hundreds of thousands of organizations including businesses, nonprofits, schools, web designers, and others. You can learn more about Formstack by visiting http://www.formstack.com or by contacting Breena Fain at 317-809-2297 or [email protected]
About Formstack
Created in 2006, Formstack is an online form builder that has become a leader in creating, managing and hosting online forms. Formstack provides businesses of all types and sizes an easy-to-use form building tool to easily collect and manage data. Users can embed forms directly into their website for quick lead capture. For more information about Formstack, or to read more about its features, please visit http://www.formstack.com.
###