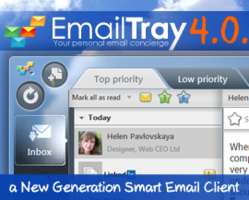 EmailTray is smart in message priority recognition, it shows the social media faces of email senders, it fixes spam filter mistakes, the smart notifier saves a lot of time, EmailTray has an intuitive interface – and this makes a real big difference!
London, UK (PRWEB) May 23, 2012
EmailTray 4.0, a smart desktop email client developed by the software team at Web CEO, has come out of beta as a very intelligent and user-friendly program for email handling.
It can automatically narrow the number of emails worth a user's immediate attention (and present such emails in the Top Priority folder while notifying the user only about their arrival and not about the arrival of less important emails). The algorithm analyzes user behavior patterns and also considers user manual priority assignments.
EmailTray handles email from multiple accounts. Once users have added all their email accounts in EmailTray, they can have fewer interruptions in their work because EmailTray will notify them if something really important has come in and they can rest assured that no important email is missed because EmailTray monitors all email accounts at once. In addition, EmailTray will detect good email erroneously mislabeled as spam and will return it back to a priority folder.
"Email has been filling people's lives with information already for three decades. Moreover, according to recent research studies by Ipsos, Basex and Pew Internet, email remains the king of Internet communication. It's apparently difficult to imagine email software that would make a revolution in email management. But EmailTray is smarter in message priority recognition than other email clients, EmailTray shows the social media faces of email senders, the email client is empowered to fix spam filter mistakes that can entail business mistakes, our smart notifier can save a lot of time that is typically wasted on email interruptions, and, finally, we provide an aesthetic and intuitive interface and easy controls – and this can make a real big difference! " – said Viktor Tatarov, CEO and Chief Product Architect of Web CEO/EmailTray.
"About a year ago I promised that our team will move EmailTray to our users' mobile phones and tablet PCs," – Viktor continues. – "This task has been partially completed, and users of Android-based mobile devices can use EmalTray too."
EmailTray for Android can be downloaded at Google Play
Simultaneously, we are launching paid subscriptions for a premium account of EmailTray and we are upgrading all our current registered users to the Premium Account for free. The free upgrade campaign for non-registered users will continue until June 1st, 2012.
About EmailTray: EmailTray (formerly SenderOK and located at http://www.emailtray.com) has been developed by the world famous Web CEO team (http://www.webceo.com) that has created the most popular search engine optimization (SEO) software in the world. The international company is located in the Ukrainian city of Kherson, which is a growing center for software and web development.