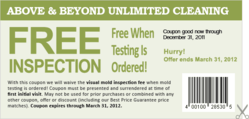 It is important to know what type of mold is growing in your house, as many types of mold are toxic, and can be hazardous to you and your family's health.
East Windsor, NJ (PRWEB) May 10, 2012
According to the American Society of Home Inspectors, more than 60 percent of all American homes have some form of dampness and are at risk for developing hazardous mold, but thanks to a local mold removal company, local residents can have their homes or businesses checked and inspected for mold at no cost.
"If you suspect that you have mold present within your home, it is important that you have a professional certified mold inspector examine to make sure you don't have a situation on your hands, as many types of mold are hazardous and can cause various health problems," said Carl Bennett, vice president of Above & Beyond Unlimited Cleaning. "All our inspectors are MICRO™ CMI certified, so you're in excellent hands with us."
To ensure that local residents and businesses are free from mold heading into the summer months, Bennett said the company has created an initiative that provides home owners and businesses with free mold inspections.
"We realize that our nation is still in recovery mode from the Great Recession of 2008, but that's doesn't stop mold from attacking homes and businesses, so we're doing what we can to help out by easing the cost of inspections that can normally cost hundreds of dollars just for a certified inspector to search for mold," said Bennett. "We've added a coupon on our website that anyone who needs a mold inspection or just wants to have one done to be safe, can get and use."
The offer, however, ends June 30, Bennett said of the mold inspections where its inspectors use thermal (infrared) imaging cameras as well as regular video cameras, moisture meters, and other latest equipment when diagnosing mold conditions.
The company's choice to use state-of-the-art equipment to locate mold could prove to have perfect timing.
According the Centers for Disease Control, mold exposure, which can cause death, is the single most misdiagnosed illness in the Unites States.
"Even a mold inspector cannot tell from looking at mold what type of mold is present, nor if it is toxic," Bennett said. "For this mold testing is required to determine what type of mold is present in your household, whether or not it is active growth, or if it is harmful. Testing results will help you to decide weather or not the professional mold remediation is required."
Bennett added that, "It is important to know what type of mold is growing in your house, as many types of mold are toxic, and can be hazardous to you and your family's health."
For more information on mold or how to receive a free mold inspection, please visit: http://www.abmoldremediationnj.com