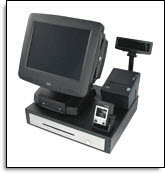 make the most amount of profit from his bestselling items
Sarasota, FL (PRWEB) May 09, 2012
WestShore Processing's free POS software has many different features that can be customized for your retail business or restaurant. The completely touch screen unit offers the users ultimate ease and control when entering tickets or scanning bar codes. The use of the state of the art UPC code scanner can be controlled as a handheld unit or as a stationary scanner when the mounted stand is installed. This scanning feature can allow unique experience in the food industry and allows for menu codes to be read. Customers can scan their own orders into system or servers will have the ability to scan; thus reducing the likelihood of errors during the ordering process which can greatly affect a restaurants bottom line.
WestShore Processing is offering several types of scanning devices. The newest of the scanners, omnidirectional scanners, are perfect for liquor stores and specialty retail locations where counter space is limited or where employees will need to track inventory and stocking or shipping and receiving.
Investing in a free POS system with all of the abilities and features that come with WestShore Processing's latest software and hardware was an easy choice to make for Rami Founde, owner of Blaze Café, and has been keeping better track of inventory and taken advantage of analyzing numbers to make the most amount of profit from his bestselling items.
While it may cost money to invest in a top notch restaurant POS software program, it is more than worth it. There are lots of restaurant POS software programs to choose from. Some are made for a specific type of restaurant (i.e. bar, fast food restaurant, pizzeria, etc) while others can be used by any type of restaurant; those who are looking for a versatile restaurant point of sale program will want to have their machine from WestShore Processing.
For more information on this program and features, please visit: http://www.freepossoftware.org