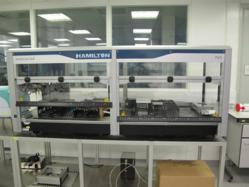 Previous sales conducted by Troostwijk for FSS have shown strong interest from the education sector
Sheffield (PRWEB UK) 20 April 2012
The sale includes equipment from the Wetherby laboratory, the last FSS laboratory to close. International private forensic science firms and educational establishments are expected to participate in the auction and bid on lots ranging from scanning electron microscopes to DNA analysis equipment and gas chromatographs. In addition, there are various microscopes and general laboratory equipment available.
Troostwijk Auction's Managing Director James Hague said "Previous sales conducted by Troostwijk for FSS have shown strong interest from the education sector and we are anticipating this to be the case in the final online auction. As many organisations look for ways to make their budget go further this is an ideal opportunity to acquire exceptionally high quality equipment at very reasonable prices."
A Government owned company since April 2005, the FSS has pioneered major advances in forensic science. FSS's most widely recognised accomplishment was the development of the first DNA database. The organisation is also responsible for developing low copy number (LCN) DNA profiling. Evidence collection and analysis in countless criminal investigations has utilised FSS developed technologies such as glass refractive index measuring machines (GRIMs), used to identify the origin of tiny shards of glass and electrostatic document analysis (ESDA's) that enables the examination of writing impressions on paper which are invisible to the naked eye.
Bidding will close from 15:00 CET on 24th May. Full details of the auction can be found at http://www.troostwijkauctions.com.