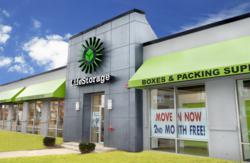 Chicago, IL (PRWEB) September 13, 2012
LifeStorage, Chicago self storage provider for home and business is holding a Garage and Clearance Sale Event at its Wrigleyville location on Saturday, September 15th from 10am-4pm, at 3323 W. Addison Street in Chicago. This event is open to LifeStorage customers and community members alike, but was specifically requested by the Chicago English Bull Dog Rescue (CEBR). The CEBR rents three units at LifeStorage Wrigleyville and asked if could set up shop and sell excess pet and rescue related items and merchandise, with 100% of the proceeds benefiting the CEBR. LifeStorage Wrigleyville Store Managers Melanie Mufich and Taylor Bray couldn't pass up such a request and went right to work on spreading the word.
Mufich and Bray are promoting the event by word of mouth and are also passing out fliers to the local community. LifeStorage Wrigleyville is also utilizing email blasts to help maximize exposure. The CEBR is helping too, with a strong Facebook presence, they've posted the event on their page and have created their own fliers they're distributing. With the dual attack on promotion, Mufich is expecting a large turnout.
"The CEBR approached us with this idea and we know many of our sister stores have held garage sales. The fact that this is already a successfully proven type of event for other LifeStorage facilities, and that we're helping a charity in the process, well, how could we resist? We're expecting a large turnout, so much so that we'll have maps made so shoppers will know what units are open and selling," Mufich said.
The CEBR is a licensed shelter that covers a good portion of the Midwest, serving Chicago-proper and the surrounding suburbs, the state of Illinois, Northwest Indiana, and Southeast Wisconsin, including Milwaukee. With 100 volunteers, they've been helping pure-bred bull dogs for the past five years. In that time they've found homes for over 500 bull dogs and through the dedication and charitable support of companies like LifeStorage, hope to continue their mission for many years to come.
"I was able to help at a recent Garage Sale Event, and from my first-hand exposure, it's really a great thing. With the right type of marketing and with the CEBR's loyal following, this is a win-win. We're going to gain exposure from the foot traffic, our tenants and community members have the opportunity to sell their excess stuff, and the CEBR gains much-needed funds for its charity," Mufich said.
Bray adds: "We have a great appreciation for the CEBR. They are very popular in the community and attend many events to get their name out there. Their workers are very dedicated and do so much to help these dogs find good homes. It's important to us here at Life Storage to help them so their name can be recognized by even more people and find wonderful homes for the dogs in need."
For more information on the Garage Sale event, please call either LifeStorage-Wrigleyville at 773-696-2584. Limited space is available, so act now if you would like to reserve a unit!
To find the nearest LifeStorage location, or for more information about LifeStorage and its services, please visit: http://www.lifestorage.net/