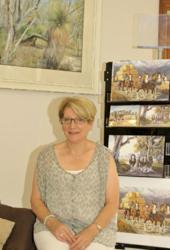 If you're overseas or interstate and you'd like a distinctive African painting, but you can't make it to the gallery, these works can be bought from the online store.
Bordertown, South Australia (PRWEB) April 04, 2012
Glenda Rowett is a South Australia-based artist who specializes in paintings of draught horses, birds, flowers, as well as Australian and African landscapes. She normally sells her work, available on canvas, in print and in various other formats through her Bordertown art gallery. However, with the recent launch of her new website GlendaRowett.com.au, the same are now also available online.
"Ordering online makes it possible to purchase my works without having to leave your home," points out Ms. Rowett. "If you're overseas or interstate and you'd like a distinctive African painting, but you can't make it to the gallery, these works can be bought from the online store."
The products up for sale on the website are the original oil paintings themselves, their prints, and their versions in homewares and screensavers. The home items are particularly appealing to buyers who like to have matching pieces to use. "Many home decorators like to choose a theme for a room and what better way to do that than to match your wall print or canvas with tableware such as placemats and coasters," explains Ms. Rowett. "Impress your guests with beautifully themed homewares that are an exact match to your gorgeous artwork."
Ms. Rowett's work is very popular with those who have a deep appreciation for the natural beauty of the Southeast Australian region. The landscape and the farming scene from the area are often the primary focus in her work as attendees of the recent grand opening of the Tatiara Civic Centre where her paintings were exhibited would have observed. The redevelopment of the centre was a project of ex-Prime Minister RJL Hawke and it signified an important step in the support for regional arts. Ms. Rowett's works which number many horse, bird, and flower paintings celebrate the quintessential charm of the area, making them an ideal choice for the opening display.
"My paintings include works of art that are inspired by the river gums, the rural landscape and the farming of the land. Collections that I have made in the past include subjects such the Poocha wetlands, draught horses, landscapes, flora and fauna of the local area," says Ms. Rowett. "Having been raised on a farm in the area, this opportunity provided me with a chance to exhibit my work before a local audience, as well as those visiting for the Civic Centre opening."
Ms. Rowett's exhibit was very well-received. Among those who gave rave reviews were Jeanne Kirsten and Alayna Milne who said that everything was beautiful and that they enjoyed Ms. Rowett's new works. Sue Jettner praised the collection for being "a great mix of so many media" while Rosemarie and Patrick Hayes from Padthaway commented, "You were always destined to bigger things."
Through her website, Ms. Rowett's works are now accessible to a wider audience. GlendaRowett.com.au is a great resource for collectors of fine art, Ms. Rowett's fans, local art enthusiasts and anybody else who appreciates great art. Visitors do not only get to shop, they can also read the accompanying art blog for news, updates and general interest posts. Aspiring landscape artists can also learn to paint like Ms. Rowett by purchasing her Guide to Painting Australian Landscapes in Acyrlics and Water based Oils.