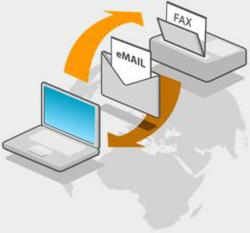 A blending of technologies provides users more communication power than initially anticipated.
Sarasota, FL (PRWEB) May 07, 2012
Users of Gmail can now fax using a little known strategy.
Several of the web-based email services configured their communication protocols so they could also transmit fax documents sent in many formats.
Gmail, a web-based email service from Google, was one of these companies.
Through the combining of two technologies, email and voip, users of gmail can now send a fax as easily as they would an email.
Several companies now offer online fax numbers that are compatible with Gmail. For a complete list, one can visit this website.
Until now, small and home-based businesses had to own a separate phone line to send faxes, often costing as much as forty dollars in the month. Businesses that utilize email faxing through Gmail may also start saving paper. No need to print out documents, just view them and they are already saved in the vast ten gigabytes of available Gmail memory.
Although a powerful communications platform on it's own, Gmail uses it's full capabilities when paired with an online fax number.
Businesses once falling behind can now move forward in front of their competitors by utilizing online faxing.
The invention of the fax machine took advantage of the blending of two current technologies; the copier and the telephone. This provided business owners with the ability to transmit documents.
Once again the blending of technologies has brought the better of the two by combining email and fax.
The process is as simple as sending from a traditional fax machine, however it is different. That is why FaxSolutions has documented in a six step tutorial exactly how to implement this new Google fax service within Gmail.
Large businesses still using fax are using them every day throughout multiple aspects of their business. However, small businesses and even one-person operations can mutually benefit from the use of online fax. In many ways, the smaller the business, the more sense Gmail fax makes.
Internet fax numbers can be secured for less than eight dollars per month. This is especially advantageous to the business that only receives a handful of faxes within the month.
Businesses looking to utilize this tool may find it described in detail at http://gmailfax.com