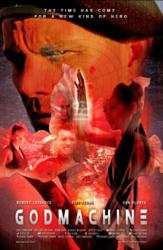 Seattle, Washington (PRWEB) May 22, 2012
Robert Leeshock and Von Flores, who starred for four seasons together on Gene Roddenberry's Earth: Final Conflict, appear in a newly-released short film entitled GodMachine. GodMachine is the story of a computer virus that allows an android to channel the frequency of the Big Bang, both bringing herself to life and forever threatening the balance of power between man and machine. While the virus is first vilified as a harmful threat, as the story unfolds it reveals itself to be more of a path to salvation.
The film marks the first time that Leeshock and Flores have shared the screen together since the last season of Earth: Final Conflict. Leeshock also served as executive producer of the film, which was written and directed by Seattle area filmmaker Richard Cranor. With the film just under 23 minutes in length, its creators hope to continue expanding the GodMachine universe through either feature film or series format. The film has screened at several sci fi conventions nationwide and is due to make an appearance in June at ConCarolinas in Charlotte, NC and later this year at DragonCon in Atlanta, GA.
GodMachine can be viewed in its entirety on Vimeo:
http://www.vimeo.com/godmachine/godmachinefilm