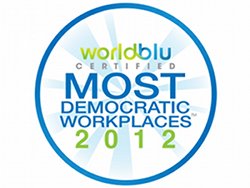 PAI scores up 18% in 2012 for embracing freedom at work. Again recognized as WorldBlu certified.
San Diego, CA (PRWEB) April 10, 2012
Productivity Associates, Inc. (PAI), a San Diego-based outsourcing provider of customer support services, today announced that they have been named to WorldBlu's List of Most Democratic Workplaces™ 2012. For the second year in a row, PAI has been recognized for embracing freedom in the workplace and demonstrating democratic principals.
PAI is one of 48 organizations to receive the WorldBlu certification in 2012. The standard for certification is high, and requires a large percentage of employees to complete a survey to rank their organization's practice of ten democratic principals, such as transparency, dialogue and listening, accountability and choice, and integrity. Each of the ten principals are rated on leadership, individual, system and process levels.
"PAI is honored to make the WorldBlu List of Most Democratic Workplaces, once again," stated Ken McLoughlin, Founder and CEO of Productivity Associates. "We see strong value in creating something bigger than ourselves. We believe that the only way to achieve true breakout success is by empowering our people to lead the charge; anything less only limits our potential."
"People want freedom rather than fear in the workplace," commented WorldBlu Founder and CEO, Traci Fenton. "WorldBlu-certified organizations model how democracy in the workplace unleashes human potential and helps build world-class organizations that change the world for the better."
As an example of practicing organizational democracy, last year Productivity Associates held a two-day "Cultural Congress" akin to the U.S. Continental Congress. Through a democratic process, PAI solidified that they would track not one, but four bottom-lines in measuring the success of their business, including: Employee Happiness, Customer Success, Financial Performance and Community Impact.
Tripp Kerr, Vice President of Culture and Operations at PAI, commented, "We are pleased to see the significant improvements made in our employee ratings for each of the categories WorldBlu leverages to measure organizational freedom." Kerr continued, "From 2011 to 2012, PAI's scores improved an average of 15-20%. These ratings affirm the direction and role our culture plays in our organization."
About Productivity Associates
Productivity Associates (PAI) provides customized and innovative customer support outsourcing solutions. PAI enjoys an award-winning, employee-driven culture. Founded in 1992, PAI's vision is to change the world through the sum total of its amazing interactions, and is committed to its four bottom lines (financial, employee, customer and community) to reach its vision. For more information visit http://www.gotopai.com.
About WorldBlu
WorldBlu has offices throughout the US and UK and specializes in organizational democracy and freedom-centered leadership, with organizational and individual members in over 70 countries worldwide. Founded in 1997, WorldBlu's vision is to see one billion people working in free and democratic workplaces worldwide. For more information visit http://www.worldblu.com.