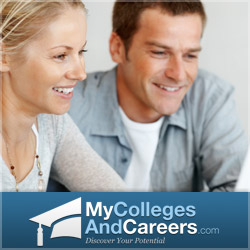 As education increases, so do employment opportunities, particularly in the private business sector.
Provo, UT (PRWEB) January 18, 2012
A Gallup study released on January 14, 2012 shows that the Government has rapidly slowed down job creation over the past three years. The study showed that while 23 percent of government agencies said they were hiring right now, another 43 percent said that employees were being laid off. As jobs move outward toward the private business sector, having a college education and work experience will become crucial in obtaining a job. My Colleges and Careers is a hub of online resources for individuals looking to obtain a college degree and prepare to work in the top careers of the private sector.
In addition to the data on the federal government presented above, state and local governments also saw a decline in job creation. However, the decrease in local government jobs was much smaller than the federal rate. On the positive side, Gallup found that job creation in the private sector increased over the past three years by nearly as much as the federal government declined. As job positions shift to private business, so will the educational and other qualifications for employment. Private sector jobs can be very competitive and difficult to obtain. Education is one of the key factors in qualifying for work in these positions. My Colleges and Careers is a resource for those looking into online college degrees to help them boost their qualifications for employment.
Whether a job requires only some formal technical training or a completed Ph.D., My Colleges and Careers is equipped to prepare individuals for employment. The degree search tool helps students connect with online colleges that offer degrees in their field of interest. In addition to this, there are informative articles with job descriptions, salary, and 'how to' instructions for most careers that can be connected with an online degree. For example, information about types of criminal justice careers or even pharmacy technician salary can readily be found on the website.
Several other tools also make it easy for visitors on the My Colleges and Careers website to get information that will help them be competitive in the struggling job market. These tools include lists of the best online colleges; infographics illustrating career information; and any news related to educational policy changes. Finally, industry experts lend their expertise frequently to the My Colleges and Careers Education Blog. The purpose of these tools is to assist individuals in obtaining the resources and information they need to further their education. The more education an individual has, the more employment opportunities they will find, particularly in the private business sector.
About My Colleges and Careers
My Colleges and Careers is dedicated to helping students and prospective students earn their college degrees through online degree programs. Considering that most students have other responsibilities and time commitments, My Colleges and Careers can become a great resource for those seeking a way to fit school into an already busy schedule. Through online programs, students can complete their schooling at their own pace. The tools and services offered on the My Colleges and Careers website have already assisted many students in completing their education and starting a successful career.
###