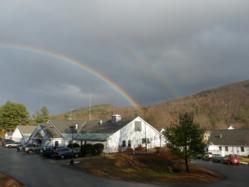 As the smallest hospital in Vermont, Grace Cottage is committed to giving our health care providers the most advanced tools available in order to provide our patients with the best possible care.
Townshend, VT (PRWEB) October 24, 2012
Grace Cottage Hospital has been named one of the most advanced hospitals in the world for its use of comprehensive Electronic Medical Records (EMR), a key factor in providing the safest, highest-quality patient care possible.
According to HIMSS Analytics, Grace Cottage Hospital is currently at "Stage 6" for adoption of EMR. Only 397 of more than 5,300 hospitals in the United States have achieved this status; Fletcher Allen Healthcare Center in Burlington is the only other Vermont hospital that has reached Stage 6. HIMSS Analytics, a not-for-profit subsidiary of the Healthcare Information and Management Systems Society (HIMSS) scores hospitals based on their progress in completing eight stages (0-7) towards creating paperless patient records.
"Becoming the second hospital in Vermont to earn this recognition is a significant achievement," said Grace Cottage Hospital CEO Mick Brant. "As the smallest hospital in Vermont, Grace Cottage is committed to giving our health care providers the most advanced tools available in order to provide our patients with the best possible care."
Grace Cottage is well known for having the highest overall patient satisfaction scores in the state of Vermont and, in partnership with Cerner Corporation, has spent the past two years preparing for and implementing a facility-wide Electronic Medical Record system, a $2.5 million investment that is funded by the American Recovery and Reinvestment Act.
"The entire staff has worked very hard to make this happen," Brant adds. "Achieving Stage 6 in HIMSS Analytics is a major milestone in the 64-year history of this hospital, so all of our employees deserve to be very proud of what they've accomplished for our patients. Now, we'll work towards Stage 7."
More information about Grace Cottage's HIMSS Analytics Stage 6 designation is available at http://www.gracecottage.org.
ABOUT GRACE COTTAGE:
Founded in 1949, Grace Cottage Hospital is a Critical Access Hospital offering a variety of health care services, including: a 19-bed hospital with a 24/7 emergency department; an imaging department with digital X-ray, CT scanner, bone densitometer, and ultrasound; a full-service lab; a rehab department with physical, occupational, and speech therapy services for inpatient and outpatient treatment; an outpatient rural health clinic with family practice doctors and a mental health department; a community wellness center hosting a variety of classes; and a full-service pharmacy open to the public. http://www.gracecottage.org
ABOUT HIMSS:
HIMSS is a cause-based, not-for-profit organization exclusively focused on providing global leadership for the optimal use of information technology (IT) and management systems for the betterment of healthcare. Founded 50 years ago, HIMSS and its related organizations are headquartered in Chicago with additional offices in the United States, Europe and Asia. HIMSS represents more than 38,000 individual members, of which more than two thirds work in healthcare provider, governmental and not-for-profit organizations. HIMSS also includes over 540 corporate members and more than 120 not-for-profit organizations that share our mission of transforming healthcare through the effective use of information technology and management systems. HIMSS frames and leads healthcare practices and public policy through its content expertise, professional development, research initiatives, and media vehicles designed to promote information and management systems' contributions to improving the quality, safety, access, and cost-effectiveness of patient care. To learn more about HIMSS and to find out how to join us and our members in advancing our cause, please visit our website at http://www.himss.org.