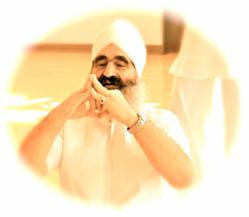 "There is absolutely no price you could put on the experience that he gives people," said student Marisa Ung.
Eagan, MN (PRWEB) September 11, 2012
A world-renowned yoga master and teacher is coming to YogaSoul Center in Eagan to teach special workshops never taught in Minnesota before.
Dr. Gurucharan Singh Khalsa, a psychotherapist, teacher, writer and expert in Kundalini Yoga as taught by Yogi Bhajan, is coming to YogaSoul to teach three different workshops Sept. 14, 15, and 16. The workshops include powerful meditation styles designed to release limiting mental and emotional patterns, as well as turn stress into an opportunity. No previous experience with meditation is required.
The first workshop is an introduction to The 21 Stages of Meditation, about which Khalsa has written a book that was released in May. In The 21 Stages of Meditation, there are three journeys made of seven stages, and each meditation practice targets the challenges and talents of one stage. Each journey through seven stages of meditation clears blocks and conflicts in the self. With these cleared, the next stages take people into experiences that deepen meditation and produce clarity.
This introductory workshop takes place on Sept. 14 from 6:30 p.m. to 8:30 p.m. Cost is $35. A book signing will take place afterward.
Khalsa had visited YogaSoul in March, when students explored two of three journeys in this meditation series. He taught meditations from the journey through The Crystalized Self, which explored the human capacity to open the heart, be authentic, remove internal splits and bring mental focus. He also taught meditations from the journey through The Expressive Self,which is the capacity to discern one's true self in action, to live with integrity and character, and to create a meaningful life. Qualities of The Expressive Self include humility and graceful enlightenment.
On Sept. 15, from 9 a.m. to 6 p.m., Khalsa will be teaching a day-long workshop on The Transcendent Self, or the capacity to be self-transforming, to master intuition, to go beyond self-limiting beliefs and embrace extraordinary potential and spirit. Wisdom, personal effectiveness and spiritual scope are natural outcomes of these three dimensions of the higher self. In this state, people can recognize the sacred contract between their consciousness and soul. Here, people can rewrite their destiny.
As with all workshops in this weekend, The Transcendent Self course does not require previous meditation experience. Each meditation that students practice is a practical tool to develop awareness and master the mind for a rich and fulfilled life. All the meditations are classic and well-tested. They are varied in style and can be done for lengths of time that support personal intention and capacity. The seven progressive stages of meditation provide both a map and the keys to realize potential as a human being to consolidate the self and more easily connect with others.
The cost for this workshop is $180.
On Sunday, Sept. 16, from 1:30 p.m. to 4 p.m., Khalsa will teach a groundbreaking workshop never taught in Minnesota before. It is called The Stress Opportunity Introductory Workshop, and prior to this it has only been taught in China and in corporations.
Opportunity and stress are necessary partners. The stress we experience each day can be a gift on our path to excellence and success. Workshop participants will learn meditations and practical techniques designed to help people turn daily stresses into opportunities. Cost for this course is $45.
Students who attend Khalsa's workshops rave about his engaging teaching style and the insights gained from his courses. Marisa Ung is one of them. She was new to Kundalini Yoga before coming to Khalsa's workshops this spring.
"This art or practice no longer seemed so foreign to me. It all just clicked, this connection to the Divine, the mysterious, my self worth, my identity. Questions I could never answer for myself with confidence all of a sudden made sense," she said. "There is absolutely no price you could put on the experience that he gives people."
Khalsa's background is one of extraordinary depth and breadth. He studied mathematics and chemistry at Harvey Mudd College and graduate mathematic studies at Claremont Graduate School, and attended Boston University for a Masters in counseling. He has a doctorate in psychology. He has taught at MIT and the University of Guadalajara; he has been affiliated with the Center for Psychology and Social Change at Harvard University; he has completed original research on the cognitive and physiological impact of meditation; and he has trained thousands of yoga teachers, and has trained thousands of yoga teachers around the world.
He is also available for private sessions on Monday, Sept. 17. To book an appointment, e-mail info@yogasoul-center.com.
For questions about the workshops, e-mail info(at)yogasoul-center(dot)com or call 651-452-5789.
YogaSoul's mission is to help clients win the battle against stress. It has an extensive class offering in several styles of yoga, including Kundalini, Hatha, Yin, and Vinyasa. It boasts a fully equipped Pilates studio and offers many kinds of classes, including Zumba, Tai Chi and belly dancing. Its full roster of teachers and healers provide clients with a variety of healing services, including intuitive readings, Reiki, Thai yoga bodywork, Ayurveda, energy work and several others. YogaSoul also hosts special workshops and Kundalini yoga teacher trainings.
To see a full schedule, make an appointment with a healer or sign up for a class, visit YogaSoul's
website, http://yogasoul-center.com/. New students get their first week of classes free.
###