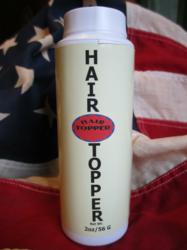 I love Hair Topper. Nobody knows I have balding hair. I feel so beautiful again.
Crescent City, CA (PRWEB) March 28, 2012
Hair Topper will join with Just J's Hairstyling Beauty Salon at a local Home Show.‭ ‬It will take place in Crescent City, California.‭ ‬Hair Topper will be demonstrating the hair building fibers on a new customer base.‭ ‬Hair Topper just recently started to offer the hair building fiber product for sale to beauty salons at whole sale prices.‭ ‬Since then, the response has been increasing.‭ ‬Hair Topper is looking forward to expanding and would like to promote the concealer for thinning hair at future health and beauty expos and hair shows.
Hair Topper is a hair building fiber that will conceal thinning hair for people who suffer with hair loss.‭ ‬The beauty industry is embracing this concept.‭ ‬More and more salon owners are recognizing that Hair Topper is a solution the salon and the customer cannot live without.‭ ‬While Hair Topper will be seen more and more in hair shows and expos,‭ ‬Hair Topper will expand to further meet the supply and demands of people who want to hide balding areas.
There are eight different natural shades:‭ ‬black,‭ ‬dark brown,‭ ‬medium brown,‭ ‬light brown/blonde,‭ ‬silver,‭ ‬salt and pepper,‭ ‬and auburn.‭ ‬The fibers are eco-friendly:‭ ‬60%‭ ‬organic and hypo-allergenic.‭
Hair Topper is manufactured in America.‭ ‬This is company that is a strong supporter of American made products.‭ ‬Our goal is to give solutions for thinning hair issues and bring self-confidence to a whole new level.‭ ‬To see a full demonstration of Hair Topper you can watch a video on youtube.com enter this link:http://www.youtube.com/user/Hairtopperproducts?feature=watch