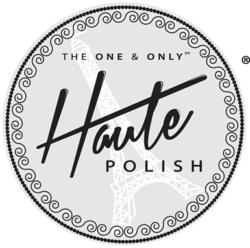 Houston, TX (PRWEB) October 23, 2012
Haute Polish announces the retail launch of its new "One-Step" Gel Nail Polish System, a nail industry first for both home and professional use. The ease and simplicity of the exclusive Haute Polish formulation eliminates the time and complexity of traditional 3-step gel systems that require adhesive basecoats, gel lacquer polish coats and sealing/shine gel top-coats. The fast and easy one-step Haute Polish accomplishes all three in a single self leveling polish coat that resolves many of the fundamental challenges surrounding traditional gel polishes. Haute Polish also makes it possible for women to confidently enjoy gel polish manicures both in the salon or at home without significant concern for the health of their nails.
Haute Polish delivers the same long wearing high-gloss benefits that have made gel nail polish so desirable but without the potential for weakened and even damaged nails. Current three-step gel manicure systems have many fundamental challenges. First, the use of aggressive adhesives in the gel basecoats may substantially weaken the nail due to use of harsh chemicals & glues which are primarily designed for professional use only. Secondly, many traditional gel polish systems utilize high levels of solvents in their formula composition, which may get "cure trapped" and subsequently deliver prolonged exposure to harmful toxins that may further diminish overall nail health. And ultimately, the difficult removal process of most traditional 3-step gel polishes by untrained manicurists and or novice consumers has a reputation for being a time-consuming and even traumatic experience that may leave nails damaged and thinner within just a few gel manicure cycles.
The Haute Polish team has created the "Next-generation system" in gel manicures by fundamentally solving many of the problems traditionally associated with traditional gel manicures. Here is a list of significant benefits and improvements never before delivered by a nail polish product until the introduction of Haute Polish.

The proprietary Haute Polish formula was "created by design" to eliminate the need for harsh adhesives by utilizing the latest in space-age polymer breakthroughs to maintain a lasting though gentle bond with the nail.
Haute Polish is 100% solvent-free, a substantial improvement that eliminates noxious, dizzying odors and the risk of "cure trap" contamination.
The One-Step polish features another industry first: "Easy Removal" Micro-conduit™ technology built into the polish formulation. The innovative polymer based formulation allows Haute Polish to be easily removed from nails in 3-5 minutes without the need of scraping, drilling or even grinding.
The Haute Polish system features individual use polish Remover Pockets™. The convenient pockets fit over fingernails with a pre-dosed Haute Polish remover solution to snuggly fit on nails. The convenient Haute Polish Remover Pockets eliminate the traditional prep process (cotton balls, aluminum foils, wraps, etc.) and allows for clean and quick polish removal while on the go.
The Haute Polish system also simplifies the post-manicure cleansing phase by being the industry first to feature convenient individual pre-dosed Cleansing Wipes™, standard in every Haute Polish home kit. Gone are the bottles of isopropyl alcohol & cotton wipes commonly seen in home gel manicure kits and salons! The Cleansing Wipes™ quickly and easily remove curing residue to reveal a high gloss shine that will last for up to 14 days.
Haute Polish is an all-in-one process whose formulation makes three step processes obsolete. The benefit is a comparable high gloss gel manicure in a third the time --- the fastest gel manicure on the market today!
Approved for professional manicures and DIY at-home use, Haute Polish gel manicures last up to 14 days without chips or breaking.
Professional looking manicures are now possible at home due to the clever and easy to use of Haute Polish's Detailing Wands™. Another industry first, Haute Polish's disposable detailing wands easily remove excess "over-painted" polish from around cuticles and skin with a simple swipe for clean edges and a professional manicure look not attainable with cotton swabs.
The Haute Polish system features the patent pending Smart Light LED™ which clearly spoken, easy to follow instructions. The light turns-off automatically when done. Furthermore, the Haute Polish Smart Light UV output is substantially less than comparable 3-step home gel kits, reducing UV exposure to a fraction of everyday outdoor sunlight.
The Haute Polish formula further saves manicure installation time for professionals by curing the polish in as little as 15-30 seconds (with Haute Polish Pro Light Series), another industry first. Traditional gel nail polish curing systems may require up to two minutes.
The Haute Polish line features a wide range classic and seasonal trend shades --- 96 spectacular shades to compliment any mood, fashion or personality.
Consumers will enjoy the ease, simplicity and affordability of the innovative Haute Polish gel manicure system. Professionals will enjoy the ability to offer their clientele a "gentle to the nails" gel nail manicure with significant nail health benefits. The vastly improved polish removal process also saves professionals and consumers alike substantial time and grief.
The Haute Polish consumer kit, initially available at http://www.HautePolish.com, retails for $59 and includes: the easy to use interactive LED Smart Light, Quick Remover Pockets, Detailing Wands, Cleanser/Finisher wipes, and one bottle of Classic Red Haute Polish. Haute Polish also offers a wide range of additional a la carte seasonal colors ($16.00ea) and a Prep/Removal Replenishment Kit $12 (48 Remover Pockets, 24 Cleanser/Finisher Wipes and 12 Detailing Wands).
Haute Polish debuted on the Home Shopping Network (HSN) September 17. Haute Polish will also be available at retail stores nationwide. For more information contact Lee Everett at LaunchPad PR. lee(at)launchpadpr(dot)com or 310.397.4321.