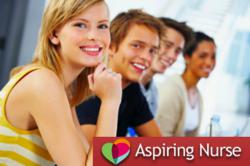 Despite rough economic times, the health care field continues to grow and expand.
Provo, UT (PRWEB) April 12, 2012
CNNMoney recently designed an infographic detailing jobs statistics from March 2012. A part of this infographic highlights three main industries that have seen job gain over the month: manufacturing, professional and business, and health care. The Aspiring Nurse website provides online resources that can allow individuals to find and complete an online degree that will prepare them to enter the health care field—one of the top industries despite current economic climate.
According to the data presented by CNNMoney, there were 37,000 jobs created in manufacturing last month. Another 31,000 were found in professional and business industries, and 26,000 in health care. These three industries have long been known as profitable areas. Despite rough economic times, they have continued to grow and expand. The main reason for this is due, in large part, to the nature of the products and services offered in these industries. No matter what happens in the world, health care, for example, will always be in high demand among all peoples and nations. Aspiring Nurse can offer specific help to individuals who wish to progress their education and enter a field that has good job security and good career prospects.
The Aspiring Nurse website allows users to locate an online college that offers various degrees within the nursing field. This could be at any level of nursing, from a basic RN to Advanced Practice Nursing. There are a plethora of benefits to completing a nursing degree online, such as the reduction in travel expenses, a flexible schedule and the ability to continue working full-time while completing the degree. News reports on the economy, such as the CNNMoney report, always reflect the positive growth of the health care industry. Aspiring Nurse offers tools to help individuals get their start in this burgeoning field.
About Aspiring Nurse
Aspiring Nurse was created to guide degree-seeking individuals toward online colleges and universities where they can complete their education. As the health care field continues to grow, despite a lagging economy, Aspiring Nurse can help streamline the process of finding a school, completing a degree, and starting a successful career.