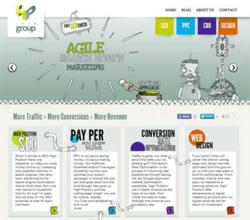 This time around we have really focussed on our people; they are the experts that keep us at the cutting edge.
(PRWEB UK) 24 September 2012
Essex based search engine marketing and creative web development agency High Position has launched a new website and blog as part of a bold rebranding. High Position are an Essex based independent agency providing fully integrated digital marketing solutions to a portfolio of clients ranging from global brands to sole traders.
The new website has been built by High Position's design and development partners Boxmodel Digital. The UK based web and mobile application development agency were given the brief of bringing out the High Position personality, and the project was managed personally by High Position managing director Stephen Dart.
"I felt that we needed a change to reflect our personality and culture. Our previous website was doing the job, but it was a bit generic and corporate," said Stephen Dart. "This time around we have really focussed on our people; they are the experts that keep us at the cutting edge. We are an eccentric bunch here but consummate professionals, with big personalities."
The new design is themed around hand drawn illustrations, centring on the High Position Engine. The new website reads, "The High Position engine is what powers our innovation. It is fuelled on expertise, research, analysis and just the right amount of crazy. We do not think outside the box, because we don't know what the box is!"
The engine represents the integrated online marketing service which features, search engine optimisation[HP SEO], pay per click advertising[HP PPC], conversion rate optimisation[CRO] and social media optimisation[HP SMO]. High Position have been market leaders in search engine marketing for over 14 years, and are recognised as an authority on SEO.
One of the major developments during the rebrand was the presentation of the SEO service as 'agile SEO'. Director of SEO Shaun Parker said, "Agile SEO describes the process we have developed over the years to keep our clients at the cutting edge of search. We build a solid foundation from understanding a client's business, market and objectives, but at the same time maintain mobility at the core of our strategy, to ensure we can respond to algorithm updates and new opportunities."
To celebrate the launch of the website High Position are offering a free SEO check to website visitors, and have launched a new white paper "Everything you need to know about Google+ local search".