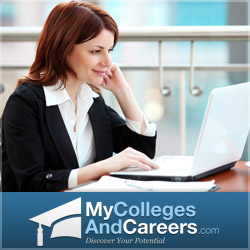 In 2009, 70.1 percent of high school graduates were enrolled in college by October of that same year.
Provo, UT (PRWEB) April 24, 2012
In 2009, 70.1 percent of high school graduates were enrolled in college by October of that same year, according to the Bureau of Labor Statistics' most recent report. In 2011, that number still remained strong at 68.3 percent. Continuing the education process beyond high school has become a trend for many due to the increased likelihood of having a secure career and higher salary later in life. My Colleges and Careers supports continuing education by connecting individuals with the best online schools and universities.
As a part of this study from the Bureau of Labor Statistics, researchers did a breakdown of college enrollment for different genders. The numbers were rather surprising. Only 64.6 percent of young men enrolled in college after high school, while 72.3 percent of young women enrolled. This is nearly 10 percent more young women than young men who choose to expand their education beyond high school. Just a few decades ago this would have been a completely different situation. One thing that is making it possible for both genders to increase their level of education is the fact that technology allows for individuals from all walks of life to complete an online degree program. My Colleges and Careers offers insight and information on their website for prospective students regarding the vast array of options for online education.
College enrollment is growing after completion of high school because it is becoming more and more apparent that education leads to a higher-quality life. Earning a degree can be an expensive and time-consuming task, however. Luckily technology is making it more conceivable by lowering transportation, room and board, and other extraneous costs. But most importantly it allows individuals to conveniently complete their degree online and at their own pace and schedule. My Colleges and Careers has created a one-stop portal for degree seekers who wish to experience what online schools have to offer. The MCC website provides information, job descriptions, infographics, and links to help individuals find not only the right degree programs but the right online colleges to get them there. Recent high school graduates who grew up with a cell phone in their hand will find that online schooling will not only prepare them to start a successful career, but is the most convenient and efficient way to complete their education.
About My Colleges and Careers
My Colleges and Careers is dedicated to helping students and prospective students earn their college degrees through online degree programs. Considering that most students have other responsibilities and time commitments, My Colleges and Careers can become a great resource for those seeking a way to fit school into an already busy schedule. Through online programs, students can complete their schooling at their own pace. The tools and services offered on the My Colleges and Careers website have already assisted many students in completing their education and starting a successful career.