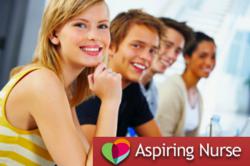 Employees who have a high level of wellbeing have 41 percent lower health costs compared to employees with low wellbeing.
Lehi, UT (PRWEB) May 31, 2012
The Gallup Business Journal highlighted the effects of low wellbeing on employees, particularly comparing the costs of healthcare. Data showed that younger employees with low wellbeing will cost more in healthcare than older employees who have a high level of wellbeing. Aspiring Nurse aims to not only help individuals increase their education in order to qualify for better careers, but to feel satisfaction and high wellbeing in said career.
In the article, released on May 22 2012, authors Tom Rath and Jim Harter were interviewed about their book "Wellbeing: The Five Essential Elements". The book highlights interesting research showing that employees who have a high level of wellbeing have 41 percent lower health costs compared to employees with low wellbeing. The importance of potential wellbeing in a career is often overlooked by employees as well as students seeking to enter a certain career. Aspiring Nurse has created a website that will lead students and career-seekers toward the healthcare field. As one of the most in-demand fields, the job security and high salary of health care workers—whether they be a registered nurse, doctor, or assistant—can help improve employee wellbeing.
The Aspiring Nurse website is designed specifically to help individuals learn about the various nursing careers. Particularly, the site can guide career-seekers toward online nursing schools that can help them get their career off the ground. Online nursing programs are excellent for any situation in life due to the flexibility and freedom that traditional colleges can't compete with. Whether it's becoming a flight nurse or a neurology nurse, there are tons of options available for those entering the field. And while the nursing field is one of the top industries to enter within healthcare, especially during the current economic climate, any healthcare job can go a long way in improving wellbeing for its workers. High wellbeing means not only fewer expenses, but more satisfaction with a chosen career.
About Aspiring Nurse
Aspiring Nurse was created to guide degree-seeking individuals toward online colleges and universities where they can complete their education. As the health care field continues to grow, despite a lagging economy, Aspiring Nurse can help streamline the process of finding a school, completing a degree, and starting a successful career.