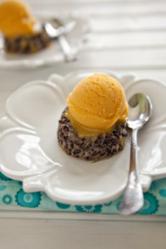 "You can turn leftover chicken and veggies into authentic dishes in just minutes with HINODE microwavable rice," explains Shaina Olmanson, author and blogger at FoodForMyFamily.com.
Woodland, CA (PRWEB) April 18, 2012
HINODE Rice is on a mission to help families eat more whole grains by offering convenient microwavable products and premium rice varieties from Asia. Americans are busy, so it's important for parents to find quick and easy meals they feel good about feeding their families. HINODE Rice is helping make cooking with brown rice even easier with convenient microwavable rice products and Calrose medium grain rice varieties that are now available in Wal-Mart, Kroger and Safeway grocery stores across the U.S. HINODE is also introducing an ancient variety called black rice to mainstream America. Once reserved for royalty in Asia, black rice is an exotic super food gaining popularity with foodies and restaurants. HINODE's black rice is now available in Kroger stores.
Rice is naturally gluten free and frequently used as the main ingredient in recipes from many cultures. Diets rich in whole grain foods (such as brown rice), other plant foods and low in total fat, saturated fat and cholesterol may help reduce the risk of heart disease and certain cancers. Whole grain rice naturally contains vitamins and nutrients including:

Iron 4% Daily Value
Fiber 6% Daily Value
Niacin 10% Daily Value
Thiamin 10% Daily Value
Magnesium 15% Daily Value
Percent Daily Values are based on a 2,000 calorie diet. Your Daily Values may be higher or lower depending on your calorie needs.
Now there is no need to wait 40 minutes for brown rice to cook. HINODE's microwavable brown rice (available in trays, pouches or cups) is ready in two minutes or less. The softer texture in the HINODE fragrant jasmine brown rice tray is ideal for picky eaters. "You can turn leftover chicken and veggies into authentic dishes in just minutes with HINODE microwavable rice," explains Shaina Olmanson, author and blogger at FoodforMyFamily.com.
Parents on the go don't have much time to plan for meals midweek when they're working and the kids are busy with activities. "It is my emergency rice that saves me when meal planning begins at the end of a busy day," says working mom of four, and avid runner, Angie Langstrom.
HINODE Rice is dedicated to producing whole grains that accommodate any type of meal. "From quick snacks in-between events to sit down meals with family and friends, HINODE Rice strives to offer a full range of cooking options for all occasions," mentions Matt Alonso, CEO of SunFoods, LLC who develops HINODE Rice. He continues, "We see a trend starting with rice that already exists in the wine industry. Home chefs are starting to experiment with different varieties and "pairing" rice with spices and recipes from cuisines around the world."
HINODE Rice has also partnered with growers overseas to bring ancient black rice to the U.S. Black rice is gaining popularity as a new super food that contains 2% of daily values of iron and 8% daily values of fiber with a slightly sweet flavor and softer texture than standard whole grain brown rice.
Families have been preparing whole grains at home for many years. Now, restaurants are starting to offer more whole grain options as they refresh their menus to accommodate growing health trends. PF Chang's China Bistro and Chipotle Mexican Grill both offer whole grain brown rice on their menus. "Whole grain brown rice is enjoying rapid growth in popularity," states John Koury, VP of Sales and Marketing at SunFoods, LLC.
The awareness of whole grains and their health benefits is increasing in consumers' daily lives as these products become more readily available in grocery stores nationwide. Wal-Mart recently launched a "Great for You" packaging icon to help shoppers easily identify healthier food options like brown rice. Whole grains are gaining more prominence in lifestyle and cooking publications and consumers are becoming more educated about the benefits of whole grain rice. FoodNetwork.com has a devoted a section of its website to whole grains.
"My family eats rice almost daily so it's a staple in many of my recipes," says Ms. Olmanson. She adds, "I appreciate that rice is a natural source of complex carbohydrates and it's gluten free!" Shaina Olmanson has prepared several recipes featured below, using whole grain HINODE Rice.
Shaina Olmanson has prepared several recipes featuring what to cook with rice using HINODE whole grains.
Black Rice Pudding Cakes with Mango Sorbet
1 cup HINODE Black Rice
1 ¾ cups water
1 cup coconut milk
3 eggs
½ cup turbinado sugar
1 tbsp fresh minced ginger
1 tsp vanilla
1 carton mango sorbet
Cook black rice according to package directions. Cool slightly and add to a large mixing bowl. In a small bowl, whisk together coconut milk and eggs. Mix the coconut milk and eggs into the rice, along with the sugar, fresh ginger and vanilla until well combined. Scoop into muffin tins and bake at 325 degrees for 20-25 minutes until rice is set. Remove from oven and allow to cool at least 15 minutes. To serve, unwrap a rice cake and place on a plate. Top with a scoop of mango sorbet. Serve immediately.
3 cups cooked HINODE Brown Rice (medium grain, long grain or microwavable)
1 cup small artichoke hearts, quartered
1 cup asparagus pieces about 1" long, blanched
½ cup sun-dried tomatoes with oil from jar
¼ cup diced roasted red pepper
6 ounces chèvre goat cheese
2 tbsp red wine vinegar
3 tbsp extra virgin olive oil
2 tbsp fresh parsley, minced
1 tsp kosher salt
½ tsp black pepper
Preheat oven to 375º F. In a large mixing bowl, combine rice, artichokes, asparagus pieces, sun-dried tomatoes and roasted red pepper. Stir to combine. Cut off 4 ounces of the chèvre goat cheese, break into ½" pieces and add to the bowl. Add red wine vinegar, olive oil, parsley, salt and pepper and toss to combine. Spread rice mixture into a 2-quart casserole dish. Dot the top with remaining chèvre goat cheese. Bake for 25-30 minutes or until heated through and the cheese begins to brown lightly. Remove from oven. Serve warm.
About HINODE Rice
Established in the 1934, the HINODE brand is owned by SunFoods, LLC with headquarters in Woodland, California. SunFoods, LLC was formed in October 2008 as a joint venture between Australian-based Ricegrowers Limited (trading as SunRice) and local California rice farmers. SunFoods, LLC recently expanded distribution of its HINODE branded rice products throughout the U.S. Find more about SunFoods, LLC and HINODE Rice products online at HinodeRice.com, facebook.com/HinodeRice and twitter.com/HinodeRice.
###