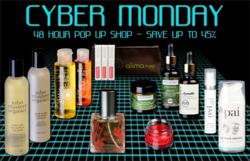 (PRWEB) November 22, 2012
Hip Apotheca announced today it will have a 48 hour pop up shop for "Cyber Monday," on Nov. 26th and 27th, following the Thanksgiving weekend.
With discounts up to 45% off of top sellers and future favorites with no special code needed, consumers can expect to find the perfect gift for anyone on their Holiday list.
Sale items will include select items from popular natural and organic brands such as Antipodes, Adara, Alima Pure, Pai Skincare, Yarok, and John Masters Organics.
Over 50 items will be on sale, all of which make great stocking stuffers. Some of the Cyber Monday deals include:
ADARA 100% pure Organic Virgin Coconut oil, imported from Singapore, is the highest grade Organic Virgin Coconut Oil available. Fair trade, organic, preservative and paraben free! Pure and uniquely light, it penetrates the skin easily to provide antioxidant protection with a supple and smooth matte finish, also conditions hair to give a soft silky sheen.
PAI ECHIUM REJUVENATING EYE CREAM an eye cream rich in Gamma Linolenic Acid and Stearidonic Acid - naturally occurring ingredients with proven anti-aging properties. Recent research has shown that Gamma Linolenic Acid (GLA) has strong anti-ageing and cell regeneration properties. Echium is the richest known natural source of both Stearidonic Acid and GLA, and many are calling it the new "wonder ingredient" for anti-aging products.
ANTIPODES VANILLA POD HYDRATING DAY CREAM which contains revolutionary Vinanza Grape©, a potent antioxidant extract from Malborough sauvignon blanc grapeseeds, keeps your skin healthy and energized. Native New Zealand manuka honey has powerful antibacterial properties to keep skin clear and fresh.
TSI-LA FIORI D'ARANCIO EAU DE PARFUM, a USDA Certified Organic perfume with sparkling notes of luscious orange blossoms, juicy tangerines, caramelized vanilla, and playful neroli flowers. Tsi-La Green Luxury™ living flower organic perfumes combine moisturizing organic oils, antioxidants, active extracts and pure essential oils to create this natural, organic, and beneficial fragrance.
Hip Apotheca is an online retailer specializing in all natural and organic personal care products from small and independent brands. With distribution in the United States and Canada, our mission is to deliver on the promise to find the finest natural beauty products available and offer them to our customers through an enhanced online experience that is easy to use and informative.