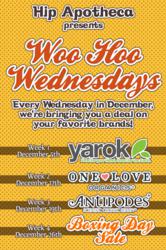 (PRWEB) November 28, 2012
Hip Apotheca announced starting on December 5th, they'll be offering deep discounts and gifts with purchase on top selling natural and organic beauty brands including YAROK Hair, One Love Organics, and Antipodes Skincare. Forget Cyber Monday, shop Woo Hoo Wednesdays at HIP for the deepest discounts in organic and natural products.
On December 5th, Hip Apotheca will announce their blow out deal on YAROK Hair. YAROK Hair's focus is to make the greatest positive impact on hair and scalp health with the least negative impact on the natural environment. Each YAROK formula is a powerful blend of organic and all-natural botanicals that are consciously sourced and responsibly harvested. YAROK uses primarily "certified organic", all vegan ingredients, and the entire hair care line is free of alcohol, paraben, sulfates and cruelty to animals.
Week two, December 12th will bring an amazing offer from One Love Organics. One Love Organics is a natural, ethical and environmentally driven cosmetics company created by skilled cosmetic artisans. The products are hand-made and hand-filled, using only the highest grade of ethically sourced raw materials to ensure the most effective, luxurious and guilt-free application.
December 19th, Antipodes Skincare will be the deal of the day. Antipodes Skincare is a unique and beautiful New Zealand skincare range. Bioactive botanical ingredients are carefully selected for performance and blended with nutrient-rich avocado oil to help powerfully anti-age skin. Antipodes Skincare is scientifically validated with certified organic protein-rich formulations, and all products are officially approved for vegetarians.
Boxing Day, December 26th, Hip Apotheca is having a site-wide sale with the entire range of natural, organic products available at a reduced price. All promotions are to be announced on Wednesday mornings via newsletter, Facebook, Twitter, and the Hip Apotheca webpage.
Hip Apotheca is an online retailer specializing in all natural, certified organic personal care products from big brands and small, independent brands. Hip Apotheca retails well known brands such John Masters Organics, One Love Organics, Pai, Julie Hewett, Coola, Yarok, Skinnyskinny, Scotch Naturals. Other brands include Adara, Egyptian Magic, Mai Couture, Tay, Suntegrity, mbeze, and tsi-la, among others. Main beauty categories include haircare, skincare, makeup, nails, and bath and body.