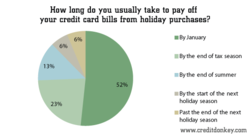 Los Angeles, CA (PRWEB) December 20, 2012
Half of consumers surveyed by CreditDonkey.com usually pay off their credit card bills from holiday purchases by the end of January. Only 1 in 10 plan to have lingering debt by the start of the next holiday season.
Survey Results: http://www.creditdonkey.com/payoff-holiday.html
"Savvy consumers are swiping their credit cards this holiday to take advantage of cash back and other credit card reward programs," says Charles Tran, founder of CreditDonkey.com, a credit card comparison and financial education website. "And they are starting the New Year off right."
In fact, 85% of respondents told us they will not need to use a credit card to borrow money for holiday shopping in 2012. Those who do use their card and pay off their holiday charges right away are essentially using their cards like cash, while taking advantage of credit card deals.
"When consumers pay in full, they can effectively game the system while minimizing the headaches associated with high interest payments," explains Tran.
To view the full survey results, visit http://www.creditdonkey.com/payoff-holiday.html.
CreditDonkey.com polled 1,045 Americans, age 18 and over, between November 19 and November 27 about their holiday shopping and financial upbringing. A total of 744 survey respondents answered the question about when they expect to pay off their holiday shopping charges.
CreditDonkey.com frequently provides information on the credit issues, news, and trends facing Americans through proprietary market research and analysis. Visit CreditDonkey.com to stay informed with credit card news, deals, reviews, and tips.