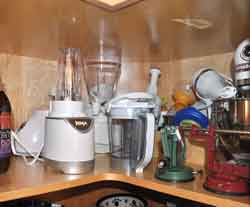 When writing an article suggesting no one needs to go shopping on Black Friday, it was embarrassing to find I'm guilty too with 3 blenders.
NH Seacoast (PRWEB) November 21, 2012
The holidays are exciting even though they add work and stress to already busy lives. There's extra grocery shopping, cooking, baking and most people still feel like they need to clean until their homes sparkle for guests.
More homeowners are searching for an alternative, a way to focus their energy on living fulfilling lives with less free time, less money, less stuff. It's not always easy challenging the status quo, making do with fewer kitchen gadgets used creatively, serving guests around the kitchen island because the dining room has become a home office. It's easier to go along with friends on Black Friday, than explain why more things aren't necessary.
Americans make their lives more complicated than necessary. It takes time to go shopping, time to find places to store things and more time searching for things when needed. There's frustration too, when that extra roll of tape or wrapping paper can't be found and the choice is to buy more? Or make do with things you already have like a brown paper bag?
There are thousands of websites with great holiday recipes, decorating ideas and advertisements to entice everyone to buy more. What can't be bought is more time, time to enjoy the most important things in life, things remembered with a smile for months and years -- time to visit with family only seen once a year, time to bake cookies with grandchildren, time to go for a long walk in the country or curl up in a chair to read a good book. The choice is yours!
-- Thanksgiving is About Giving, Not Shopping
-- Kitchen Gadgets for the Holidays
-- HolidayDecorating and Tablescapes
-- Tips for Organizing Your Home