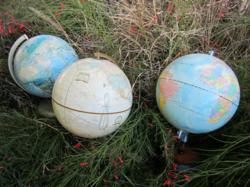 Pack n Send, a Houston shipping company, has established free classroom lessons.
Houston, Texas (PRWEB) November 08, 2012
Pack n Send, a Houston shipping company, has established free classroom lessons touching on geography and math for elementary, middle and high school teachers to use in their daily instruction.
Pack n Send decided to develop this first lesson because, as the company ships freight and cargo worldwide, Pack n Send has seen that students and workers have little knowledge about currency conversion. This makes it very difficult to conduct business. Many students know few facts about countries other than the United States of America. In the real world global economy of today, it is crucial that schools teach students certain facts about other countries including foreign currencies and how to calculate exchange rates.
Elementary School
For the younger grades, Pack n Send introduces students to other countries simply by using flags. For students just learning their colors, an example lesson would be as follows:
An employee works for a shipping company that has been asked to ship candy from Houston to Botswana, Houston to Iceland and Houston to Malawi. Can the employee easily identify the colors in the flag of Botswana, Iceland and Malawi?
Each student can be assigned a separate county to click on. The student can then copy the flag of the country and discuss the colors of the flag. For the first lesson, a student may pick a country he or she is already familiar with. The second time around, the teacher can choose the country in order to encourage the student to expand his or her knowledge base.
Secondary School
For the middle school and high school students, Pack n Send has used facts about each country as well as currency conversion. An example lesson for Middle School children is as follows:
Your students have been asked by a Houston freight company to ship a package from Houston to Portugal. The Portuguese company will be paying for this shipment. The charge is $325 (US Dollars). While preparing to email the charges to the Portuguese company, the student realizes that they do not deal in U.S. dollars but in Euros. What is the amount of Euros that the Portuguese company will need to pay?
An example for High School students is as follows:
A piece of artwork valued at $1,850 (US dollars) is being shipped from Houston crating company to Italy for a museum showing. From Italy, the artwork will go to South Korea for another display. From South Korea, it will be shipped onto Hong Kong for the last and final art showing. The artwork will then be shipped back to the U.S. In each case, a commercial invoice must be prepared with the following information:
Shipping from: Houston to Italy
Shipping from: Italy to South Korea
Shipping from: South Korea to Hong Kong
Shipping from: Hong Kong to Houston
Value of artwork $1850 (US dollars)
Value of artwork Euros
Value of artwork South Korean Won
Value of artwork Hong Kong Dollars
Pack n Send's website contains links to flags, facts and currencies for over 150 countries, territories and islands. The website has tried not to include countries for which the United States has a shipping embargo in place.
Pack n send has included a video that teachers can use to show why businesses need to know about currency conversion.
When Pack n Send sent the basic program to teachers in Texas last year, we asked students to send us back facts about countries they knew about or had visited. The idea about shipping candy originated with one of last years' students. The idea for using flags as a teaching tool came from teacher input.
This year Pack n Send would like to hear about some of the ways that you have implemented this program in your classroom. Teachers and students are encouraged to suggest changes they would like to see in these lessons or facts they would add about the various countries.
The link to this program is:
http://www.pack-n-send.com/students-teachers/
If you would like to email Pack n Send with any questions about this program, our address is:
schools(at)pack-n-send(dot)com.