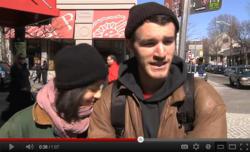 Seven out of ten women plan to have children at some point, but most plan to delay pregnancy until their 30s.
Boston, MA (PRWEB) March 26, 2012
Fall in love. Get married. Start a family. That's the relationship and family-buidling process that most Americans expect. But for 1 in 5 couples, that scenario does not play out as planned, and they are surprised to discover that they are having trouble getting pregnant.
"Age is a dominating factor when it comes to fertility," explains Isaac Glatstein, MD, Associate Medical Director at the Reproductive Science Center of New England (RSC). Ovarian reserve, the number and quality of eggs a woman has available when she tries to conceive, is the major factor linking age and infertility. "By age 35, about 11% of women will have an infertility issue, that increases to 33% between age 35 and 40," he states.
How to Make a Baby, an online talk show produced by RSC New England, follows the stories of young couples who thought starting a family would be easy, were surprised when it wasn't, and what they did about it. The program will be broadcast online on April 18 and June 6 at 7:00 PM. (Those interested in watching can register at http://www.howtomakeababy.info) or by calling 800.858.4832.
A Fertility IQ Survey of over 1,000 women between the ages of 25 and 35, conducted by EMD Serono in 2011, found that:

7 out of 10 women plan to have children at some point
Most plan to delay pregnancy until their 30s
30% have no concern about trying to conceive and believe they will have an average or easier time becoming pregnant compared to most women
78% have never discussed age as an infertility factor with their Ob/Gyn
A 2010 survey of over 7,000 women conducted by Attain Fertility Centers, of which RSC New England is a member, yielded similar results. "Nearly one third of the couples who come to us for help getting pregnant, have waited too long," says Dr. Glatstein. "Awareness is needed about the medical condition of infertility and that's why we have invested in producing How to Make a Baby," he adds.
People spend so much time worrying about getting pregnant when they're not ready; they simply think it will be easy when they want to start a family. To prove the point, RSC New England, recently conducted on-the-street interviews near Brown University in Providence, RI. The results of those interviews are included in an engaging You Tube video introduction to the How to Make a Baby program.