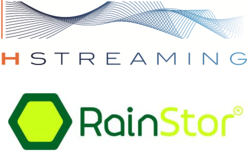 O'Reilly Strata Conference, Santa Clara, CA (PRWEB) February 28, 2012
RainStor, a provider of Big Data management software, and HStreaming, a real-time continuous data analytics platform powered by Hadoop, today announced a partnership to offer an innovative solution for real-time and historical analytics and query. The combination allows users to take action on events and insights gleamed from multi-structured data at scale, during any point in the data lifecycle, and significantly reduces total cost of ownership.
HStreaming is the most scalable stream and complex event processing system on the market, able to process and analyze hundreds of millions of data events per second. It enables customers to handle data continuously as it is generated, run advanced analytics functions, create live dashboards, and trigger actions based on predefined rules or heuristics. HStreaming focuses on data at its origination and converts data into insights and insights into action at millisecond latency.
RainStor's Big Data management database collects, stores, and analyzes unlimited volumes of data using the Hadoop File System (HDFS), leading to dramatically reduced storage, compute, and operational costs. It features unique value and pattern de-duplication resulting in the highest compression ratios on the market. RainStor on Hadoop also boosts MapReduce performance and adds SQL-92 and ODBC/JDBC query access to data stored on HDFS, allowing both data scientists and business analysts to access and analyze data through the methods that best suits them.
The joint solution gives companies complete end-to-end lifecycle analysis and management of Big Data wherever it is generated, combining real-time actionable event analysis with flexible historical data analytics for deep insights into patterns and behaviors. The integration allows data to be efficiently transferred between HStreaming and RainStor, significantly reducing network and disk utilization, further driving down the total cost of ownership. Examples of industry data types that benefit include Telecommunications and Netflow analysis, Call Detail Records, Wireless Access Protocol data and Financial Services with fraud detection and alerting.
"Our partnership with HStreaming is a perfect complement for companies who need to analyze and act upon those streams of data in real time before they are archived in RainStor," said John Bantleman, CEO, RainStor. "Our compression allows raw data to be cost-effectively retained after HStreaming processing, providing customers with the flexibility to continue to use MapReduce to analyze larger time slices of data or to use enterprise-standard business intelligence tools for SQL Query."
"Our customers rely on HStreaming to analyze millions of events per second, processing, analyzing, and taking actions on streaming data directly off the network," said Jana Uhlig, CEO, HStreaming. "By partnering with RainStor, we can jointly offer a solution that fully integrates real-time and historic data analytics in a very efficient way."
Editor's note: RainStor is exhibiting at the Innovators Pavilion, booth 715 at Strata Conference in Santa Clara, CA, taking place Feb 28-Mar 1, 2012. RainStor is also sponsoring the Network Intelligence Alliance event at Mobile World Congress (MWC) in Barcelona, Spain on February 28. For more information, contact info@rainstor.com. Find out more about MasterClaw's use of Rainstor's technology by visiting the Anritsu booth at MWC Hall 1, B31.
Additional Resources

About RainStor
RainStor provides Big Data management software. RainStor's database enables the world's largest companies to keep and access limitless amounts of data for as long as they want at the lowest cost. It features the highest level of compression on the market, together with high performance on-demand query and simplified management. RainStor runs natively on a variety of architectures and infrastructure including Hadoop. RainStor's leading partners, include Amdocs, AdaptiveMobile, Anritsu, Dell, HP, Informatica, Qosmos and Teradata.
RainStor is a privately held company with offices in San Francisco, USA and Gloucester, UK. For more information, visit http://www.rainstor.com. Join the conversation at http://www.twitter.com/rainstor.
About HStreaming
HStreaming LLC, based in Chicago, IL, provides a scalable real-time continuous data analytics platform powered by Hadoop. HStreaming enables organizations to realize the full value of data by analyzing, visualizing, and acting on massive data correctly and in real-time. HStreaming consolidates real-time and batch analytics in a single Big-Data platform and is available for all major Hadoop distributions. HStreaming offers three products: hosted cloud edition, reliable and secure enterprise edition, and free community edition. For more on HStreaming, please visit http://www.hstreaming.com.
###
HStreaming is a trademark of HStreaming LLC. Hadoop is a trademark of Apache Software Foundation. All other company and product names may be trade names or trademarks of their respective owners.