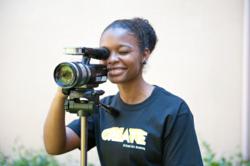 A new film camp and photography camp for teens will be held at NYU starting Summer 2012.
(PRWEB) April 24, 2012
A new film camp and photography camp for teens will be held at NYU starting Summer 2012. iD Visual Arts Academy, a pre-college program that introduces teens to the filmmaking industry, will hold two-week sessions at the prestigious New York University college campus from June to August. NYU joins Stanford University and Princeton University in hosting these programs.
The elite iD Visual Arts Academy is for ages 13-18 and gives students a taste of college life while teaching them essential technology skills. Students can focus on filmmaking, special effects, or professional photography and learn industry-standard software including the Adobe® Creative Suite and Apple® Final Cut Pro®.
During each intensive session, teens learn in small classes and take advantage of New York City as a backdrop for their filmmaking and photography projects. Classes are taught by adult-only instructors with industry experience. Instructional faculty include professional Visual FX editors, exhibiting artists, and award-winning documentary filmmakers.
Courses include "iD Film Studios 101" to give students a general introduction to filmmaking, and "Visual FX with Final Cut Pro® and Adobe® After Effects®" for students interested in special effects. Students in the filmmaking camps learn everything from how to build pre-production shot lists to filming techniques and post-production editing. Students interested in photography can take the "Professional Photography" class to explore different genres of photography as well as finishing techniques.
Other academic summer programs held at NYU include iD Tech Camps, the nation's leading summer technology program for students ages 7-17. This gives younger students the opportunity to learn movie making, film production, and video game design at the same great NYU location in weeklong day camp sessions. Check course availability for these kids camps as well as the new teen summer camps at internalDrive.com.
ABOUT iD TECH CAMPS AND iD TEEN ACADEMIES
iD Tech Camps and iD Teen Academies engage students in STEM education with computer camps held at 60 prestigious universities nationwide. Learn how to make iPhone® apps, how to create your own video game, how model 3D animations with Autodesk® Maya®, how to build a website with Flash®, and more. Sessions are weeklong, day and overnight for students ages 7-18. Learn essential technology skills in small classes while attending sessions held at universities such as Stanford, UCLA, Princeton, and more. Teens preparing for college can build online portfolios and explore future career paths at iD Gaming Academy, iD Programming Academy, and iD Visual Arts Academy. Visit http://www.internalDrive.com or call 1-888-709-TECH (8324) for more information.