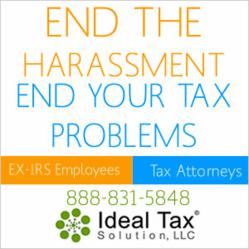 There are millions of Americans who suffer from a tax debt of some sort, resulting in them having their wages garnished, bank accounts levied, etc.
Costa Mesa, CA (PRWEB) February 06, 2012
The Congressional Research Service, or CRS, released a report recently about the changes in the distribution of income among individual filers of tax returns between 1996 and 2006, has concluded that the tax cuts that were first enacted under the presidency of George W. Bush have contributed to a widening of the United States wealth gap. The CRS report examines changes in income inequality among US tax filers between 1996 and 2006. Specifically, it points out that Congress will soon need to address problems affecting the distribution of taxpayers' income in the US. For example, the Administration has stated that one of its principles for tax reform is to observe the "Buffett rule" that "no household making over 1 million dollars annually should pay a smaller share of its income in taxes than middle-class families pay," while Congress will need, later this year, to debate the scheduled expiration (at the end of 2012) of the 2001 and 2003 Bush tax cuts. The CRS found that inflation-adjusted average after-tax income grew by 25% between 1996 and 2006 (the last year for which individual income tax data is publicly available). However, the average increase obscures a great deal of variation; in that "the poorest 20% of tax filers experienced a 6% reduction in income, while the top 0.1% of tax filers saw their income almost double." http://www.usataxnews.com
Of all the recent tax news, this seems the most devastating. Instead of stealing from the rich to give to the poor, America seems to be doing… the opposite. The Bush Tax, in plain English, basically allowed wealthy taxpayers to pay the same amount of taxes homes with the average income do. The report points out that the poor are getting poorer and the rich are getting richer. There are millions of Americans who suffer from a tax debt of some sort, resulting in them having their wages garnished, bank accounts levied, etc. So essentially, the average income household living paycheck to paycheck has gotten behind on their taxes and now the IRS is taking all the money they DO have, causing them to struggle even more. Tax resolution companies are well aware of the struggles in paying taxes that some Americans face. These companies help persons of all income types with their tax debts, whether they are rich or poor. While the statistics are there, even rich people suffer tax debt. The IRS utilizes their rights to seize Americans money and belongings without having to take them to court. Only a tax resolution company can truly save someone from this.
About the company: Ideal Tax Solution, LLC is located in Costa Mesa, CA and provides tax negotiation services, preparation and is a collection defense specialist. Their Tax Attorneys, IRS Enrolled Agents, CPA's, Senior Tax Consultants have over 55 years of combined experience working to help American tax payers with the IRS and State Tax Agencies. Ideal Tax boasts an "A" rating with the Better Business Bureau earned through providing excellent services.
###