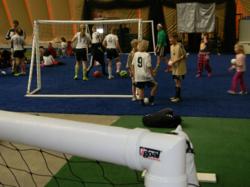 "The safety thing was pretty important to me, my (younger, U8) players can run into the steel goals and hurt themselves, and even the rigid plastic ones cans hurt them, but the inflatable ones don't pose any threat at all."
Detroit, MI (PRWEB) March 20, 2012
iGoal®, manufactured by Air Structures International(ASI), and featuring the unique Rigid Air Technology™, made its debut in the Midwest U.S. throughout winter 2011-12, at various tournament demonstrations and club trials in the metro Detroit area. iGoal earned enthusiastic reviews from consumers, coaches and club directors at each demonstration event and trial.
iGoal is an inflatable soccer goal that is focused upon the safety of youth soccer players. It is light-weight, durable, portable, quick to use – inflating in seconds – and suitable for recreational or match play.
Major winter metro Detroit tournament demonstrations included the Total Soccer Turkey Shoot 3v3 Thanksgiving Tournament at Total Soccer in Fraser (Mich.), on November 25 and the Oakland Yard Christmas Classic Tournament at Oakland Yard Athletics, in Waterford (Mich.) on December 28.
Both tournament demonstrations featured three iGoal models – the 6x4 Mini, 8x5 Home and 12x6 Junior. Other sizes available include the 16x7 Intermediate, 21x7 Youth and 24x8 Adult. iGoal also offers a special Futsal model, and a Street model featuring the 6x4 Mini packaged in a backpack for easy transport by players for pick-up games.
At the Turkey Shoot 3v3 Tournament, Total Soccer owner and director, Brian Tinnion, used iGoal Mini models in the tournament warm-up area; allowing more than 50 teams, representing more than 20 soccer clubs, to experience and evaluate iGoal.
At the Christmas Classic Tournament, Oakland Yard owner Marty Greenspan also used Home and Junior models in the tournament warm-up area; allowing all 96 registered teams, representing more than 40 soccer clubs and high schools, to experience and evaluate iGoal. In the exhibit areas of both tournaments, ongoing demonstrations were held to highlight iGoal quick inflation and deflation, safety and overall ease of use.
Drawings were held at both tournaments for iGoal Mini models, putting the product to use for players representing the Michigan Jaguars, PSG FC Nova, and Gators Soccer Club.
Two iGoal Club Trials resulted from the events as well, with Legacy FC and Gators SC evaluating iGoal in winter training throughout the months of January and February. Additionally, Total Soccer is making iGoal models available to clubs who use the facility for indoor training.
Comments from coaches participating in the trials included:
"My players loved to set up and take down the goals and they got very good at it."
"The parents like them – a lot of them asked if they can buy one for the backyard; one family even wanted a couple for their basement, so the kids can play indoors."
"The safety thing was pretty important to me, my (younger, U8) players can run into the steel goals and hurt themselves, and even the rigid plastic ones cans hurt them, but the inflatable ones don't pose any threat at all."
In August 2011, iGoal made its West Coast debut in the U.S., with a tour throughout California that included stops at the MLS Cup Champion LA Galaxy and demonstrations for the American Youth Soccer Organization (AYSO).
Additional metro Detroit events are planned for spring 2012; watch for details. For information and details about iGoal, contact Gavin Whelan, ASI Business Development Manager at: gavin.whelan(at)airstructuresinternational(dot)com.
About Air Structures International
Air Structures International(ASI), founded in 2005 and with its corporate headquarters in the United Kingdom, is the manufacturer of iGoal® soccer goals, featuring the unique Rigid Air Technology™ construction. iGoal inflatable soccer goals are available in eight sizes, from a mini 6'x4' ideal for backyard use, to a full-size 24'x8' adult match goal. All iGoal models are self-contained, easy to carry and durable; with a focus upon safety and ease of use. For more information about ASI and iGoal soccer goals, visit: http://www.airstructuresinternational.com/
Contacts
Product Information and Sales: Gavin Whelan, ASI Business Development Manager
gavin.whelan(at)airstructuresinternational(dot)com