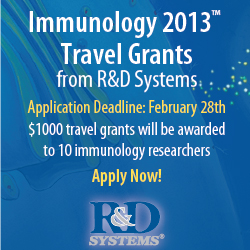 Minneapolis, MN (PRWEB) December 12, 2012
R&D Systems is pleased to announce that it will award travel grants for researchers to attend the American Association of Immunologists 100th Annual Meeting (Immunology 2013™). The biotech company invites immunology researchers to apply for funding by visiting their website at: http://www.RnDSystems.com/ImmunoTravel.
Ten travel grants of $1,000 will be awarded. Researchers planning to attend Immunology 2013™ can apply for travel funding online between December 12, 2012 and February 28, 2013. The online application process is short and simple. Award recipients will be determined via a random drawing and announced March 15, 2013.
The American Association of Immunologists (AAI) is celebrating its centennial in 2013 with the 100th annual meeting, May 3-7, 2013 in Honolulu, Hawaii, USA. R&D Systems representatives will be attending the meeting and welcome inquiries on products for studying hematopoiesis, pathogen recognition, the innate immune response, T cell differentiation, B cell activities, cytokines and receptors, inflammation, tumor immunology, and autoimmune diseases.
The company offers a broad range of high quality reagents for studying all areas of immunology including over 12,000 high performance antibodies, cell selection and multicolor flow cytometry kits, and the most referenced collection of bioactive proteins and immunoassays in the industry. In addition, R&D Systems offers a wide selection of multiplex assays for the simultaneous detection of multiple analytes using different detection platforms.