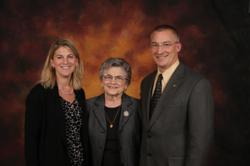 (PRWEB) August 28, 2012
For the sixth consecutive year, Standard Process Inc. has been named one of America's fastest growing private companies. The company earned the position of 4,303 on the 2012 Inc. 5000 list.
Standard Process continued to grow its sales during three of America's toughest economic years in recent history, 2008 through 2011. Over this three-year period, Standard Process reported a 27 percent growth in revenue.
To qualify for the Inc. 5000 list, businesses must be based in the United States, privately held and independent (not subsidiaries or divisions of other companies), and have generated at least $100,000 in revenue in 2008 and at least $2 million in revenue in 2011. Standard Process met the first two criteria and far surpassed the third one: Its corporate headquarters are located in Palmyra, Wis.; the company is in its third generation of family ownership, and Standard Process generated revenue of $94 million in 2008 and $124 million in 2011.
"We are committed to ensuring the highest quality product throughout every stage of development, from farming through shipping," said Charles C. DuBois, president of Standard Process. "Continuing to be ranked alongside other top companies on the Inc. 5000 list validates the effort our employees and sales force make each and every day to provide quality supplements that help optimize health and wellness."
Using many ingredients grown on its 450-acres of certified organic farmland in Palmyra, Wis., Standard Process manufactures whole food supplements that provide specific, nutritional support to the body. Standard Process continues to follow founder Dr. Royal Lee's whole food philosophy to make its supplements.
To learn more about supplements from Standard Process, visit standardprocess.com.
###
About Standard Process Inc.
For more than 80 years, Standard Process, headquartered in Palmyra, Wis., has provided health care professionals with high-quality, nutritional whole food supplements. Standard Process offers more than 300 products through three product lines: Standard Process whole food supplements, Standard Process Veterinary Formulas, and MediHerb herbal supplements. The products are available only through health care professionals.
Standard Process is involved in every step of production. The company grows crops on company-owned, organically certified farmland, utilizes state-of-the-art manufacturing processes, and employs the highest quality control standards. Standard Process strictly adheres to the Food and Drug Administration's good manufacturing practice requirements. Through these measures, Standard Process can ensure that its products are of the utmost quality. Standard Process has twice been named a Top 100 Workplace in Southeastern Wisconsin.