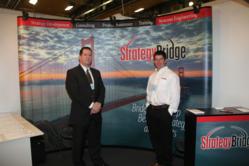 The Symposium allows the world's leading systems engineers to meet and learn about the latest in tools, methodologies and approaches.
Winchester, VA (PRWEB) July 20, 2012
Strategy Bridge International, the leader of systems engineering based professional development and strategic planning, announces its participation in the 22nd Annual International Council of Systems Engineering's 2012 Symposium in Rome. "The Symposium allows the world's leading systems engineers to meet while they learn the latest developments in tools, methodologies and approaches. This is the second year that Strategy Bridge has exhibited at the INCOSE Symposium, following our success at the 2011 symposium in Denver.," commented Paul AmRhein, Strategy Bridge's Vice President for Business Development. "Unlike some conferences, INCOSE has a very personal feel, where both existing and new clients can get information about Strategy Bridge's offerings and recent successes."
In addition to exhibiting, Strategy Bridge Chief Executive Mark Wilson delivered a well-attended tutorial on the Art of the Trade Study. "Objectively evaluating options, especially when budgets are decreasing, is a skill set that all systems engineers should possess. The hands on tutorial included techniques on framing a problem and conducting a trade study," explained Wilson, a nationally recognized decision analysis expert.
Strategy Bridge is fundamentally tied to INCOSE and has leveraged a team of four Expert Systems Engineering Professionals to build a proprietary knowledge base. Courses, materials and instructors can be combined to provide clients a tailored response to meet their exact needs, typically with less than a thirty day turn around. Meeting with other practicing systems engineers from around the world ensures that Strategy Bridge remains on the cutting edge of techniques and practices. A theme common to many of the European presenters was "systems thinking", a term integral to Strategy Bridge courses, but often missing in "U.S. based" system engineering materials. "It was encouraging to see that the Strategy Bridge perspective has an international appeal," added AmRhein.
While in Rome, Wilson and AmRhein met with Italian Space Agency representatives to leverage Strategy Bridge's long term relationship with NASA. "It's clear that there are potential partnerships in strategy development and systems engineering professional development utilizing nearly a decade of Strategy Bridge experts working with NASA," commented AmRhein. "We'll continue to work with ISA as well as the other European Space Agencies to develop a common approach to the international space mission."
ABOUT STRATEGY BRIDGE –
Strategy Bridge International (http://www.strategybridge.com) enables clients to bridge the gap between strategy development and desired operating results through systems thinking, systems engineering, decision analysis, and project management. Strategy Bridge offers facilitated planning workshops and focused consulting to guide strategy and systems development, project planning, and decision-making. Strategy Bridge master instructors average over 25 years of practical on-the-job experience running complex projects and teach a full portfolio of tailored courses designed to improve organizational performance in systems engineering, project management, and leadership.