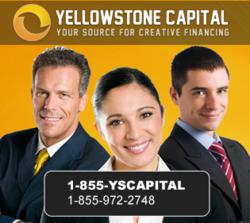 When traditional banks have slammed the door in your face and declined your loan application, Yellowstone Capital can provide you with the financial assistance you need, especially during the busy holiday season
New York, NY (PRWEB) November 30, 2012
Yellowstone Capital, LLC (YSC), a leader in facilitating merchant cash advances, has enhanced its abilities to provide merchants with inventory financing to meet the high demands of the business holiday season.
Arlena Basilio, an in-house funder for Yellowstone Capital, commented on their program: "We have been working hard to make sure we are completely capable of handling the needs of retailers who need additional funds to handle their increased holiday demands this season. By providing a financial bridge in the form of a merchant cash advance, we can make this holiday season successful for retailers."
With a recovering economy, holiday shoppers are definitely out in force and ready to spend. But some smaller retailers do not have the financial capability to have the inventory on hand to meet such a higher demand this holiday season.
"When traditional banks have slammed the door in your face and declined your loan application, Yellowstone Capital can provide you with the financial assistance you need, especially during the busy holiday season," added Basilio, referencing the shortage of financial institutions that can provide small retailers with favorable financing terms during this holiday season.
Aaron Davis, a senior account manager for Yellowstone Capital explains, "When it comes to creative financing a strict formula based approval process is not enough. We look at the whole picture. What may be a fit for one business and their unique situation is not typically the same for another business. We don't base merchant cash advance approval decisions based strictly on someone's FICO score, but take a 360 view of their business and can provide money based on their revenue. That's something a traditional bank is simply not equipped to do. That's why when banks say no, we can say yes."
Mr. Davis continues, "As long as you currently own a business and are generating revenue, it is likely that we can get you the funding that you need to increase your inventory this holiday season. If we don't help our small to mid-size businesses in taking advantage of the busiest retail season of the year, how will they grow their business and continue their financial livelihood?"
About Yellowstone Capital
An alternative to traditional funding, YSC provides merchant cash advances that can be used for anything, from renovation work to increasing inventory, during the busy holiday season. Funding is available for businesses of all sizes, and businesses from all different niches. There are no personal guarantees or collateral attached to the merchant cash advance. The YCL application process is relatively short and simple, and the time frame for disbursing funds is 7 business days or less. Qualified retailers can get cash advances of up to $1 million, which is enough to help them stock their inventory for the upcoming holiday season.
Please call 1-855-972-2748 or go to Yellowstone Capital to learn more. You can reach Mr. Davis directly at 347-269-3449 or Ms. Basilio at 347-464-0781. Check out our video.