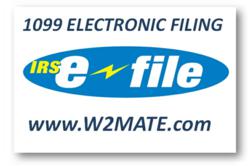 W2 Mate is everything business filers need for W2 1099 compliance without the rampant costs and resource expenditures.
Chicago, IL (PRWEB) January 09, 2013
Real Business Solutions (RealTaxTools.Com) announces the release of 2012 / 2013 1099 electronic filing software with support for the latest IRS FIRE System File Format (Publication 1220). The new release supports reporting of IRS forms 1099-MISC, 1099-K, 1099-INT, 1099-DIV, 1099-R, 1099-S, 1098-T, 1098, 1099-A, 1099-B, 1099-C, 1099-PATR and 1099-OID. Trial download available from http://www.realtaxtools.com/.
1099 electronic filing is ideal for businesses that process a large number of 1099 forms and for accountants preparing year-end tax forms for their clients. W2 Mate does not impose any limitations on the number recipients, filers, companies, EINs, forms or e-filing submissions. W2 Mate supports 1099 E-filing with the federal government and with states that participate in the combined federal and state filing programs including Alabama, Arizona, Arkansas, California, Colorado, Connecticut, Delaware, District of Columbia, Georgia, Hawaii, Idaho, Indiana, Iowa, Kansas, Louisiana, Maine, Maryland, Massachusetts, Minnesota, Mississippi, Missouri, Nebraska, New Jersey, New Mexico, North Carolina, North Dakota, Ohio, South Carolina, Utah, Virginia and Wisconsin.
"1099 Electronic Filing is a chore, but it doesn't have to be. This is why we built W2 Mate. A powerful, yet very affordable,1099 software that takes the complexity out of year-end-reporting by providing the right tools to E-File 1099 forms with the IRS and E-file W2 forms with the SSA," says W2 Mate product manager Nancy Walters.
A free trial of W2 Mate 2012 can be downloaded from http://www.realtaxtools.com/
Customers can purchase W2 Mate and receive it instantly.
W2 Mate 2012 can import and E-file W2 and 1099 forms for the following QuickBooks versions: QuickBooks Pro., QuickBooks Premier Accountants Edition, QuickBooks Premier Professional Services Edition, QuickBooks Premier Contractor, QuickBooks Premier Nonprofit Edition, QuickBooks Premier Manufacturing & Wholesale and QuickBooks Enterprise Solutions. W2 Mate can also process 2012 / 2013 wage statements and information returns for Microsoft Great Plains, Microsoft Dynamics GP /SL, Sage MAS 90, Sage MAS 200, SAP, Sage Peachtree, Sage 50 and Sage DacEasy.
W2 Mate Software Highlights:

Complies with 2012 IRS Specifications for Filing Forms 1099 Electronically and complies with SSA Specifications for Filing Forms W-2 Electronically (EFW2).
Creates 2012 employee W2's as PDF and recipient (vendor) 1099's as PDF.
Prepares unlimited number of 2012 W2 and 1099 forms for multiple employers and payers.
Prints 2012 1099 recipient copies on regular white paper.
Secure and reliable.
Prints government-approved W-2 and W-3 forms on regular white paper (no red-ink form to buy)
Data import from MS Dynamics, Great Plains, Intuit QuickBooks, Sage Peachtree, Sage DacEasy, Excel and CSV. Data import from QuickBooks removes the "800 Form" / "$10 Million payroll" maximum limitation.
Efficient and intuitive manual W2 / 1099 data entry.
Supports 1099MISC, 1099K, 1099INT, 1099DIV, 1099R, W2, W3, 1096, 1099S, 1098T, 1098, 1099A, 1099B, 1099C, 1099PATR, 1099OID.
Automatically calculates Social Security and Medicare taxes. For paper filers 1096 and W3 are automatically generated.
Supports Windows 8, Windows 7, Windows Vista, Windows XP, Windows Server 2003, Windows 2000 or Windows 98.
Roll-over of 1099 payer and 1099 recipient information from year to year.
Password protection and data validation.
Generates W2 and 1099 printing labels, form totals and recipient lists.
Prompt, courteous and reliable U.S.-based support through phone, chat or e-mail.
Network ready with affordable pricing for multiple seats.
Exports W2s and 1099s to excel.
1099 software that work with QuickBooks.
TIN matching and verification including reports for missing TINs and TIN matching errors.
Calculates social security tax withheld on W2 forms.
Auto generates control numbers for W-2 Forms.
Includes 2012 form 1099 instructions.
A free 2012 1099 Electronic Filing software evaluation can be downloaded from http://www.realtaxtools.com/. Customers can purchase the software and receive it instantly.