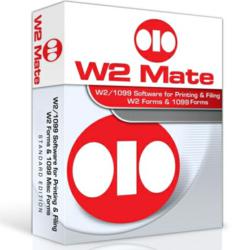 Preparing W2 and 1099 forms is a chore, but it doesn't have to be. This is why we built W2 Mate. Powerful, yet very affordable, W2 1099 filing software that takes the complexity out of year-end-reporting.
Chicago, IL (PRWEB) January 07, 2013
Real Business Solutions (http://www.W2Mate.com), tax and 1099 solutions provider, today announced the release of its IRS W2 2012 filing software. The extremely easy-to-use and affordable program covers all the IRS W-2 printing and electronic filing needs of small businesses, financial intuitions, payroll departments, CPAs and tax professionals.
The Social Security accepts laser printed Forms W-2/W-3 as well as the standard red drop-out ink forms. Both the laser forms and the red drop-out ink forms must comply with IRS Publication 1141. Laser printed forms require pre-approval from Social Security. W2 Mate software is approved annually by the SSA to print all w2 form copies and W3 on regular white paper.
Year after year, small businesses and accounting firms rely on W2 Mate to process accurate and timely 1099 and w2 returns with the IRS and Social Security Administration. W2 Mate software has some of the best W2 and 1099 software reviews in the industry.
A free W2 software evaluation can be downloaded from http://www.W2Mate.com. Customers can purchase the software and receive it instantly.
W2 Mate Software Highlights:

SSA-approved to print W2 and W3 forms on regular paper including government copies.
Generates ready-to-email 2012 W-2 forms and 1099 forms. Which eliminates the need to print and email W2s and 1099s.
Unlimited 2012 W2 electronic filing submissions using the EFW2 format.
Automatically calculates Social Security and Medicare taxes. For paper filers 1096 and W3 are automatically generated.
Prepares unlimited number of 2012 W2 and 1099 forms for multiple employers and payers.
Complete W2 preparation software.
Generates printing labels, form totals and recipient lists.
Meets IRS and SSA regulations.
Fills in pre-printed 1099 Copy-A forms and prints other 1099 copies such as recipient and payer copies on plain paper using black ink.
Unlimited 2012 1099 E filing using IRS FIRE System (No per form fees and No data transmission charges).
Imports data from Intuit QuickBooks (QuickBooks Pro, QuickBooks Enterprise, and QuickBooks Premier), Microsoft Dynamics (GP or SL), Sage Peachtree, Sage DacEasy or CSV/ Excel.
Efficient and intuitive manual W2 / 1099 data entry.
Supports 1099MISC, 1099K, 1099INT, 1099DIV, 1099R, W2, W3, 1096, 1099S, 1098T, 1098, 1099A, 1099B, 1099C, 1099PATR, 1099OID.
Supports Windows 8, Windows 7, Windows Vista, Windows XP, Windows Server 2003, Windows 2000 or Windows 98.
Roll-over of payer and recipient information from year to year.
Password protection and data validation.
Prompt, courteous and reliable U.S.-based support through phone, chat or e-mail.
Network ready with affordable pricing for multiple seats.
Exports W2s and 1099s to excel.
TIN matching and verification including reports for missing TINs and TIN matching errors.
Supports truncating social security numbers on returns.
Prepares 1099s for a contract workers.
Demo software includes sample company with sample 1099 forms filled out.
A free trial of W2 Mate 2012 can be downloaded from http://www.W2Mate.com/. Customers can purchase W2 Mate and receive it instantly.