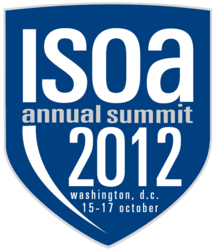 ISOA has brought together stability implementers along with leading policy-makers to help chart a global strategy
Washington, DC (PRWEB) October 23, 2012
From 16 to 17 October, the 2012 Annual Summit featured over 50 speakers providing unparalleled discussions on the future of stabilization, security and development. Speakers included senior level government officials and key implementers from the private and nonprofit sectors worldwide sharing experiences at the National Press Club in Washington, D.C.
The first day of sessions witnessed an opening speech from Deputy Assistant Secretary of Defense, Dr. James Schear, which set the tone for the summit. Guests then took part in a panel on Afghanistan: Transitions in Development & Security. Attendees enjoyed lunch with remarks from Ambassador John Negroponte and closed the day with an address from Assistant Secretary-General UN DPKO, Edmond Mulet.
Day two swept back into action with Breakfast Workshops on Compliance and Evolution in ANSI PSC Standard. The crowd convened for the ISOA Year in Review as well as a session on ROI of Stability Operations. Guests heard comments from the Honorable Princeton Lyman over lunch and thereafter attended the Future of Contingency Contracting panel.
"This year's ISOA Annual Summit has been the best conference yet," said Jeff Grieco of International Relief & Development. "ISOA has brought together stability implementers along with leading policy-makers to help chart a global strategy to improve stability in failed and fragile states and improve the lives of the poor and vulnerable."
Participants closed the Summit in the final session, U.S. Foreign Policy in the Next White House, featuring representatives from the Obama-Biden and Romney-Ryan campaigns. After two full days of events, the event came to a close as ISOA President, Doug Brooks, thanked all of this year's sponsors, exhibitors and guests for making the 2012 ISOA Annual Summit the most successful in association history.
About the ISOA Annual Summit
The ISOA Annual Summit is the premier annual event of the stability operations community. Over two days, attendees participate in open dialogue on trends, challenges and tools for success in their work towards stability, peace and development in fragile environments worldwide. Partners across the private, nongovernmental, academic and government sectors are invited to share their experiences and knowledge at this unique event.
About ISOA
ISOA is the international trade association of the stability operations industry, promoting ethics and standards worldwide and advocating for effective utilization of private sector services. ISOA members are leaders in the industry and are supported by ISOA's outreach, education and government affairs initiatives.