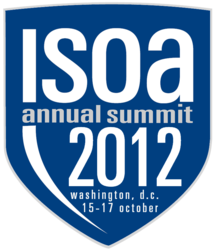 We truly value the support, in sponsorship and ideas, we receive from our 2012 ISOA Annual Summit sponsors
Washington, DC (PRWEB) October 02, 2012
The International Stability Operations Association is pleased to announce that the Welcome Networking Reception for the ISOA Annual Summit will be hosted by PwC LLP, on their scenic roof deck in Washington D.C. The opening event joins ISOA, colleagues and special guests for an evening of insightful conversation and networking to launch the 2012 Summit. The reception begins at 6:00pm, October 15, 2012.
The ISOA Annual Summit is made possible through industry leading sponsors including Gold Sponsors DynCorp International, PAE and Onsite OHS. Sponsorship for the Annual Summit is also provided by Silver Sponsors Olive Group, Triple Canopy, GardaWorld, and International Relief & Development, alongside Bronze Sponsors Fluor and BAE Systems, and Supporting Sponsor Vertical de Aviacion.
"We truly value the support, in sponsorship and ideas, we receive from our 2012 ISOA Annual Summit sponsors," says ISOA Manager of Membership & Business Development, Jason Kennedy. "Through their engagement with the Summit, our sponsors demonstrate their leadership in the stability operations industry and showcase the diverse and critical services our members provide."
Further details of the 2012 ISOA Annual Summit are available at http://stability-operations.org/summit2012
For sponsorship and exhibition information, please contact Jason Kennedy at JKennedy(at)stability-operations(dot)org.
For event and registration information, please contact Jessica Mueller at JMueller(at)stability-operations(dot)org.
About the ISOA Annual Summit
The ISOA Annual Summit is the premier annual event of the stability operations community. Over two days, attendees participate in open dialogue on trends, challenges and tools for success in their work towards stability, peace and development in fragile environments worldwide. Partners across the private, nongovernmental, academic and government sectors are invited to share their experiences and knowledge at this unique event.
About ISOA
ISOA is the international trade association of the stability operations industry, promoting ethics and standards worldwide and advocating for effective utilization of private sector services. ISOA members are leaders in the industry and are supported by ISOA's outreach, education and government affairs initiatives.