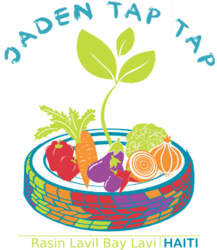 The Jaden Tap Tap (Tap Tap Garden) in Cite Soleil, Haiti is Haiti's largest urban garden with over 500 tires producing food for the youth and elderly community members.
Port-au-Prince, Haiti (PRWEB) January 31, 2012
Bochika is pleased to announce that the "Jaden Tap Tap" (Tap Tap Garden) urban community garden was proudly inaugurated on January 22, 2012 in Cite Soleil, Haiti. The Tap Tap Garden is Haiti's largest urban garden containing more than 500 brightly painted tire gardens, flower garden, and a nursery of 1,000 trees. Nearly 600 community members, NGO's, and government officials joined Bochika, SAKALA-Pax Christi Ayiti, and SOIL in celebrating the inauguration of the garden, as well as a new community Eco-San Toilet. The crowd was delighted to participate in the daylong event that featured a "farmers market", agricultural demonstrations, musical and dance performances by local youth, and special appearance by internationally recognized Haitian recording artist, BelO.
The inauguration showcased the Tap Tap Garden as a model for urban agriculture for the neighborhood, country, and the world - demonstrating that bountiful, nutritious gardens can be grown in even the harshest conditions. The Tap Tap Garden is an acre of former landfill that now symbolizes hope, empowerment, education, and opportunity for Cite Soleil, one of Haiti's most impoverished neighborhoods. As part of Pax Christi Ayiti's SAKALA youth empowerment program, the garden is also a living classroom, providing 250 at-risk youth with a safe, positive environment in which to learn the basics of agroecology, agroforestry, nutrition, and to develop leadership and entrepreneurial skills. Food grown in the Tap Tap Garden feeds more than 250 neighborhood youth and residents of the nearby elderly and disabled persons displacement camp, Mitchiko, and will be sold to ensure long-term sustainability of the garden.
Bochika would like to thank everyone who attended and/or contributed to the success of the inauguration, especially our fellow partners in the Tap Tap Garden: Pax Christi Ayiti, Pax Christi USA, SOIL (Sustainable Organic Integrated Livelihoods), Pro-Huerta, Catholic Relief Services (CRS), Mennonite Central Committee (MCC) and Onslot Creative. A special thanks to esteemed guests, Ambassador Marcelo Raul Sebaste from Argentina, Ambassador Ivan Gaton from the Dominican Republic, and to all of the performers, especially BelO for their support.
To learn more about the Tap Tap Garden or Get Involved, visit http://www.bochika.org or contact Daniel Tillias in Haiti (509-3649-1493) or Ann Marie Warmenhoven in the United States (305-747-1984). Donations can be made directly to the Tap Tap Garden via http://bit.ly/TapTapDonate.
About Bochika:
Bochika is a 501c3 not-for-profit organization founded in 2010 in Miami FL. Bochika's mission is to empower marginalized and impoverished communities through participatory sustainable economic, agricultural and social development programs. To fulfill this mission, Bochika partners with civil society organizations in the developing world to design and implement programs that strengthen internal capacity through provision of essential resources of training, tools, and technology. Bochika's work was acknowledged by former President Bill Clinton in 2010 and received an award from Miami-Dade County in 2011. Currently, Bochika is administering two major programs, the Tap Tap Garden and youth empowerment program in Cite Soleil, Port-au-Prince, Haiti and the Little Haiti Farmers Market in Miami. To learn more, visit http://www.bochika.org.
###