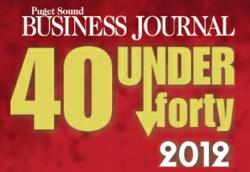 Seattle, WA (PRWEB) October 04, 2012
Point Inside CEO Josh Marti was named as one of Puget Sound Business Journal's 2012 40 Under 40 Honorees. The 40 Under 40 program was launched 14 years ago to identify and recognize people under the age of 40 who are center stage in our business community, working hard to drive the economy and demonstrating dynamic leadership. After a search that included more than 400 nominations, the Puget Sound Business Journal selected the 14th class of 40 Under 40 honorees and celebrated them at a sold-out awards bash on Sept. 20 at the Showbox Sodo.
"We are proud and excited to announce this year's Puget Sound Business Journal 40 Under 40 honorees," said Gordon Prouty, Puget Sound Business Journal Publisher. "This year's class joins the 520 past winners who have been recognized for their outstanding achievements in both career and community. They represent a diverse group of industries and background and demonstrate the innovation, energy and commitment that has made our region great, and will continue to make our region great moving forward."
"It is an honor to be included in a group of such high achieving and community-oriented individuals," said Josh Marti, CEO of Point Inside. "I owe the success of our rapidly growing company to the entire Point Inside team. It is very exciting to be building revolutionary shopper engagement technologies and working with the world's best retailers to help them connect with their customers via mobile."
About Point Inside
Point Inside is the leading mobile shopper engagement platform that uniquely uses multiple indoor location technologies to provide brick-and-mortar retailers with micro-location marketing and private ad network capabilities. The platform, offered through retailers' branded mobile applications and channels, helps retailers, brands and manufacturers increase revenues and achieve more measurable sales results by giving customers a real-time, in-store retailer connection that saves them time and money. Privately-held Point Inside is based in Bellevue, WA. More information can be found at http://www.pointinside.com/company/about-us/.
About Puget Sound Business Journal
Puget Sound Business Journal is the region's premier source of business information, serving an unparalleled audience of business and community leaders. In addition to the weekly newspaper, the Business Journal provides daily updates via its web site and email alerts. The company also plays a vital role in bringing the area's leadership community together by hosting a wide variety of events throughout the year, from the annual 100 Fastest Growing Private Companies celebration to the Women of Influence awards event. Puget Sound Business Journal is a unit of American City Business Journals, which operates 40 local business newspapers throughout the United States. Visit Puget Sound Business Journal on the web at http://www.pugetsoundbusinessjournal.com.