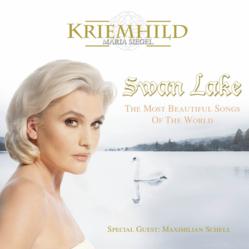 It was an honor for me to present my new album on the wonderful show of Carmen Nebel, especially because my dear friend Maximilian Schell performed with me on stage. It was a truly wonderful moment in my life.
Palm Beach Gardens, FL (PRWEB) November 16, 2012
Lovers of classical voice are delighting in a new talent, as German soprano Kriemhild Maria Siegel embarks on a campaign to share her music and performances with audiences in the United States. The great classics of Tchaikovsky, Smetana, and Mozart are refreshed in Siegel's impressive third album, Swan Lake: The Most Beautiful Songs of the World by Kriemhild Maria Siegel, released late 2011 by Jupiter Records in Europe, and now available digitally in the U.S.
The album – curated by Siegel herself and produced by her husband, Ralph Siegel – features 16 pieces that flow from classical works by Pyotr Ilyich Tchaikovsky, Bedrich Smetana, and Wolfgang Amadeus Mozart to more modern pieces by Steve Mandy and Ralph Siegel, finishing with Engelbert Humperdinck's "Abendsegen" from the opera Hansel and Gretel. The album's launch date included the singer's special performance on Europe's famed The Carmen Nebel Show, with a rare performance by Oscar-winning actor Maximilian Schell; Schell also appears in and narrates an artful video for the single "Swan Lake" featuring Siegel in the dramatic title role, which she recorded in both English and German.
In a recent interview, Siegel noted "It was an honor for me to present my new album on the wonderful show of Carmen Nebel, especially because my dear friend Maximilian Schell performed with me on stage. It was a truly wonderful moment in my life."
All songs on Swan Lake and her previous albums, Eternity and Mozart Premiere, were produced by Ralph Siegel, owner of Jupiter Records, and 2007 Echo Lifetime Achievement Award winner. He released the Grammy-winning disco-hit "Fly Robin Fly" by Silver Convention, which topped the U.S. charts in 1976 and went Gold; he is also the son of Ralph Maria Siegel, who was one of the most successful composers, publishers and lyricists in Germany.
In recent years, Ms. Siegel (nee: Kriemhild Jahn) established herself in Europe with both her strong clear voice and her innovative approach to classical music. Her lifelong immersion in studying and performing classical music informs her unique choices, as does her desire to reach both children and adults with her music. Siegel says she finds that children are intrigued by her dramatic classical music videos. As a child herself, she trained as both a swimmer and a musician, and was well-known through church events and concerts, forming her first music group at age 11, and her making her first radio broadcast at 14. The same year, she sang at a private audience for Pope John Paul II, who was said to have expressed delight at the voice of this young girl. At 25, Siegel was honored with the "Robert Stolz Award" as best young classical singer.
In years since, impassioned performances and intelligent artistic choices have fueled her success and critical acclaim. Throughout her career, Siegel has enjoyed the challenge of bringing her vibrant personal touch to both classical and well-known music, sometimes being compared with Sarah Brightman, Linda Eder, or the more ethereal Darlene Koldenhoven. Elegant, warm, and expressive are words often used to describe her performances, best witnessed in her multi-lingual music videos. In fact, eight of the 16 songs on Swan Lake are captured on video, from "Swan Lake" to the beloved song "Hijo de la Luna" by Jose Maria Cano Andres, and including the more recent "From Here to Eternity", written by her producer. Most surprising, however, are the works of Wolfgang Amadeus Mozart, which were cleverly adapted by Norbert Daum and given lyrics for the first time ever, and performed dramatically on video. As Siegel's clear soprano rings out with tales of love and yearning from Eine Kleine Nachtmusik, Klaviersonate C-Dur and Symphony No. 17, one feels a keen familiarity with the songs, as If they've always been performed in this beautifully operatic way. However, she says, it is remarkable that these classical works have never before enjoyed lyrics; under Siegel's guidance, several composers and lyricists adapted the pieces for debut on her 2006 album Mozart Premiere. She later performed the works against the timeless backdrop of Venice, Italy in cooperation with the MDR-television ballet, which aired as a television feature in Europe and resulted in the DVD "A Night in Venice."
Siegel explains, "In Mozart Premiere, the most famous instrumental works by Wolfgang Amadeus Mozart were rearranged, for the first time ever, with texts in different languages and thus made singable. To me, and for many people, it sounds so natural, as though they were always meant to be this way."
Five of the singer's favorite pieces from Mozart Premiere grace the Swan Lake album; also included on Swan Lake is the poetic "From Here to Eternity" from her 2009 album Eternity, which she refers to as a crossover album for its more contemporary feeling. Rounding out Swan Lake are four original pieces written by numerous composers and lyricists, titled "Somewhere Beneath the Moonlight", "I Believe in You" "True Love" and "Reach Out for the Stars."
Siegel, who resides in Florida with her husband, says she looks forward to opportunities to bring her out-of-the-box approach to classical music to forward-thinking venues and media outlets throughout the United States.
The albums Swan Lake, Eternity and Mozart Premiere are now available in the USA via Amazon, iTunes, GooglePlay and other stores online. Facebook: http://www.facebook.com/kriemhild.m.siegel
Track List
Swan Lake: The Most Beautiful Songs of The World by Kriemhild Maria Siegel
The Lovesong in Me
Swan Lake (Schwanensee)*
Hijo de la Luna*
River of Memories (Die Moldau)
Kiss Me, Hold me, Love Me
Song of Love*
Il Senso Dell'Amore*
Nel Gardino Dei Ricordi*
Dire Sempre Dire Mai*
Dreams are a Sacred Plan*
From Here To Eternity*
Somewhere Beneath the Moonlight
I Believe in You
True Love
Reach Out for the Stars
Abendsegen (Evening Benediction / Duet with Angela Wiedl)
*denotes songs with an accompanying music video on YouTube