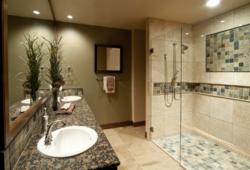 Home design trends change just as fashion trends, and the soaking tub concept no longer fits many homeowner's lifestyles" explains Mike Foti, Innovate Building Solutions President and Chief Executive Officer
Cuyahoga Hts, Ohio (PRWEB) September 20, 2012
It is common knowledge luxurious bathrooms and kitchens are what many homeowners desire. In years past, the space occupying "soaking tub" was a draw to potential homeowners, but that is often no longer the case. "Home design trends change just as fashion trends, and the soaking tub concept no longer fits many homeowner's lifestyles" explains Mike Foti, Innovate Building Solutions President and Chief Executive Officer. In bathroom remodeling projects today, wasted space is being reclaimed to add safety, comfort, style and practicality." One of the by-products is the overwhelming trend to remove existing whirlpool and soaking tubs and replace them with larger shower.
"This thought process change has resulted in both practical and beautiful alterations to the bathroom," adds Foti. While many builders chose to incorporate soaking tubs in larger bathrooms so residents could "relax," the reality is most tubs gather more dust than water. "There are a number of valid reasons to choose a larger, more luxurious shower over a tub," Foti says. They include:
1. Showering is in, bathing is out – Most people, pressed for time, are taking showers instead of baths. A larger shower can be much more comfortable than a small stand up unit squeezed into the room.
2. Safety – Stepping over a tub rail can be dangerous. With a shower there is either a small 4-5" curb to step over– or you can even do a barrier free shower that has a curbless design. This is important for anyone, but can become crucial as people age or for those with decreased mobility.
3. Money– Jacuzzi style whirlpool tubs are expensive and can be difficult to install. These units take a lot of energy to run, a lot of water to fill and can put a strain on hot water tanks.
4. Shower accessories are available for a spa- like experience – Digital shower heads, rain heads, corner and bench seat and linear drains with LED lights are just some of the incredible shower features available today.
If keeping a bathtub in the house is important, there are several ways to accomplish this goal while still installing a larger, high quality shower. For more information, contact Mike Foti at Innovate Building Solutions, a nationwide supplier of bath and shower systems and a bathroom remodeling contractor in Cleveland, Columbus and Cincinnati Ohio. Mike Foti is also a Certified Aging in Place Specialist (CAPS) though the National Association of Homebuilders.