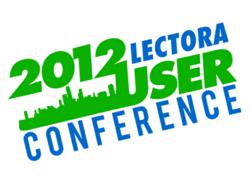 The exclusive setting of the Lectora User Conference is a perfect opportunity for exhibitors and eLearning professionals to connect on a whole new level.
Cincinnati, OH (PRWEB) February 21, 2012
The 2012 Lectora® User Conference announces that the event will soon fill all exhibitor space for the upcoming conference in Chicago. This unique opportunity will allow exhibitors and attendees to connect for the very first time at the Lectora User Conference. Due to the overwhelming amount of exhibitors already signed up, this e-Learning industry conference encourages interested sponsors to act fast while there is still space.
"We are excited to see so many exhibitors jump at the chance to be a part of all of the learning and innovation at the Lectora User Conference," said Peter Bray, Chief Marketing Officer at Trivantis Corporation. "The exclusive setting of the Lectora User Conference is a perfect opportunity for exhibitors and eLearning professionals to connect on a whole new level. Since this is the first time we're offering exhibit opportunity, we've been overwhelmed with the response by our partners."
After the recent announcement and the invitation for exhibitors at the 2012 Lectora User Conference for the very first time, the following quickly joined the 2012 Lectora User Conference sponsor and exhibitor line-up:
2012 Lectora User Conference Gold Sponsors:

LinguaLinx, Inc. - Exclusive Translation Vendor Sponsor – Helps organizations deliver clear, culturally appropriate messages to grow their global business
Flypaper - Exclusive Digital Signage Vendor Sponsor – Leading Flash content creation platform to generate high-quality Flash and video content for digital signage networks
2012 Lectora User Conference Exhibitors:
MindLeaders – Offers more than 4,000 e-Learning courses on a wide range of topics such as Business Skills and Development, Desktop Computing, Home and Small Business, Technical Web Development and more
Quizzicle – Introducing "CHRONNICLE" at LUC2012 – a groundbreaking Lectora Publisher extension to track, evaluate and analyze learner behaviors and course performance
Moxie Media - Leading producer & distributor of custom and "off the shelf" training and safety programs for business and industry
DIY eLearning - Offers dynamic pre-built interactions, characters, sounds and photos that can be used to customize your eLearning course, add interactivity to a website or create engaging presentations.
Artisan E-Learning – Offers custom e-Learning development, e-Learning consulting and advice, and e-Learning development training
eLearning Brothers – eLearning Brothers creates stunning eLearning templates for Lectora (Games, page layouts, themes, skins, and more.)
The Lectora User Conference draws e-Learning developers and professionals from all over the world to learn, share ideas and network with their peers, product developers and industry experts. Hosted May 22-24 at the Chicago Marriott Downtown Magnificent Mile, this e-Learning event boasts innovation, learning and fun.
For more information about the Lectora User Conference including exhibitor and sponsorship opportunities, to see the full schedule of events, to register and more, please visit: 2012 Lectora User Conference.
About The Lectora User Conference and Trivantis Corporation
The Lectora User Conference is a leading e-Learning industry event that attracts professionals from around the world to advance their development skills, increase their e-Learning knowledge and network with other e-Learning professionals. As the flagship product for Trivantis, Lectora® is the world's leading e-Learning software used by most Global 2000 companies in more than 125 countries and is offered in six languages. The Lectora line of e-Learning products includes Lectora Inspire, Lectora Online, Lectora Publisher and Lectora Integrator. Trivantis also produces Flypaper™, the leading Flash content creation platform that empowers users to create, edit, share, track and reuse high-impact Flash and video content. Snap! by Lectora® is the easy-to-use PowerPoint plug-in rapid e-Learning software that converts PowerPoint to Flash. Its sister product, Snap! EmpowerTM Flash interactions builder, enables anyone to create Flash content without having to know Flash programming. To round out the Trivantis family of products, CourseMill is the powerful and affordable learning management system (LMS). Headquartered in Cincinnati, Ohio, Trivantis Corporation also has offices in Boca Raton, Phoenix, Paris and London. Trivantis, Lectora, Flypaper, CourseMill, Snap! by Lectora and Snap! Empower are trademarks of Trivantis Corporation.
Website: http://www.Trivantis.com
Phone: 877.929.0188
Facebook: facebook.com/Trivantis & facebook.com/SnapByLectora
Twitter: twitter.com/Lectora
Blog: trivantis.com/blog & SNAPbyLectora.com/e-Learning-blog
###