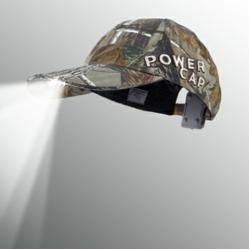 CHICAGO, IL (PRWEB) November 27, 2012
Panther Vision®, creator of the POWERCAP® LED Lighted Hat has launched a new POWERCAP LED Headlamp Hat that will make traditional headlamps obsolete.
The EXP|100 takes the light output of a high quality headlamp (60 Lumens) and integrates it underneath the brim of a high quality, stylish hat. With two 3mm LED's angled down at 25° for close up tasks and four 5mm LED's pointing straight out for distance lighting, you will always have the perfect light no matter what your activity choice. The patented 3 way switch lets you pick each lighting option separately or have both on at the same time for maximum light. With a lightweight AAA battery pack on the back, users will find this cap well balanced and comfortable. In case you accidentally leave the lights on, there's even a built in battery saver feature that turns the hat off after 15 minutes of inactivity.
"We believe that consumers shouldn't have to choose between style, comfort and quality hands-free lighting gear," said Mike Carter, Vice President & General Manager. "Our POWERCAP EXP|100 takes a high quality, stylish and comfortable ball cap and incorporates our patented LED technology. We can't imagine why anyone would ever want to don a traditional, bulky, dorky looking headlamp with elastic straps ever again."
With the POWERCAP EXP|100, there is no more fumbling with awkward straps that can slip or trying to get the headlamp positioned so the light shines in the right spot. Wherever you look, the light shines and unlike most headlamps, you get close up task lighting too. This product is perfect for Hunting, Fishing, Camping, Hiking, or just about any outdoor activity.
The LED hat is available in black cotton/microfiber blend or Real Tree® AP Camo pattern – a favorite among outdoorsman. 3 AAA batteries are included and provide up to 117 hours of battery life. Backed by a Limited Lifetime Warranty from Panther Vision, users can feel confident that these caps will provide years of comfort and dependable light for all low-light situations.
Check out the new POWERCAP EXP|100 Headlamp Hat and the whole line of POWERCAPS and other hands-free lighting products at http://www.panthervision.com . For Sales and Marketing inquiries, please contact Mike Carter at 847-783-5900 ext.106. mikecarter(at)panthervision(dot)com