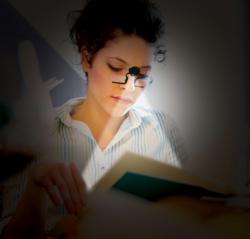 There are so many times that just a bit of magnification or some extra light would really come in handy
CHICAGO. IL (PRWEB) December 11, 2012
Panther Vision®, creator of the LIGHTSPECS® line of Lighted Reading Glasses announces the introduction Itzy Bitzy™ Lighted Wallet Readers. These portable lighted readers are designed to fit in a credit card slot of a wallet so they are always handy when magnification or light is needed in low-light situations.
Their flexible, ultra lightweight design fits comfortably on the end of your nose without pinching. The powerful LED performance light shines right where it's needed most to read what's in front of you. Itzy Bitzy is packed with a long life lithium battery, so you can rest assured that these will perform well for a very long time. Their protective carrying case prevents the lenses from getting scratched when inserting or removing them from wallet.
"There are so many times that just a bit of magnification or some extra light would really come in handy," said Mike Carter, Vice President & General Manager. "I keep a pair in my wallet, and find that I use them much more often than I ever thought I would – in restaurants, at the theater and in the car – they've been a lifesaver many times over. Not only are they perfect for low-light situations, you can also use them to read the small print on prescription bottles, maps and instruction guides. Since they are always in your wallet or purse, they are always on-hand, and you don't have to look around for your reading glasses."
These LED lighted wallet readers make great gifts and are available in three colors: Red, Black and Blue.
Check out the new ITZY BITZY™ Lighted Wallet Readers and other hands-free lighting products at http://www.panthervision.com . For Sales and Marketing inquiries, please contact Mike Carter at 847-783-5900 ext.106. mikecarter(at)panthervision(dot)com