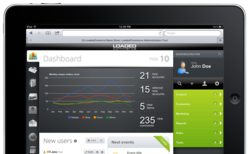 "This represents the culmination of our efforts since we took control of the software in May." - Mr. Salvatore Iozzia
Atlanta, GA (PRWEB) September 28, 2012
Loaded Commerce announced the release of Loaded Commerce 6.5.1 CE, Pro and B2B today. The open source advanced shopping cart software's latest version comes with several bug fixes and security enhancements. New features include SEO URL cache for reviews & article reviews info, tax calculations, easy accessibility to the Language Editor and enhanced Google API support. The new version returns to all-inclusive payment options, with the help of WorldPay, iDeal, 2 Checkout and Loaded Payments powered by PayLeap.
Mr. Salvatore Iozzia, the original founder of Loaded Commerce (used to be called CRE Loaded) took back control of the enterprise in May 2012. Since then the team have tested and released a year's worth of fixes and also added new features and security enhancements to the open source shopping cart software. "This represents the culmination of our efforts since we took control of the software in May," said Mr. Iozzia, CEO and founder of Loaded Commerce.
Loaded Commerce will release their brand new and completely recoded Loaded7, which will still be entirely open source and will feature HTML5 support, a dynamic template platform and completely object-oriented programming. The new version will also eliminate the need to encode 3rd party add-ons and will be mobile ready from the start. A limited alpha 1 version of the software will be available soon. Find out more at loaded7.com.
About Loaded Commerce
Loaded Commerce is an eCommerce solution provider, which offers an advanced open source shopping cart software program. Independent store owners can easily download and set up shopping carts and use them to sell both physical shipped goods and digital electronic goods. To learn more about Loaded Commerce, please visit http://loadedcommerce.com/.
Copyright © 2012 Loaded Commerce, LLC a The Reactor Works company