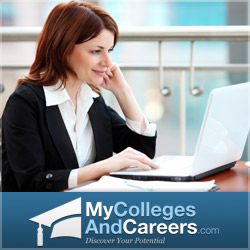 The federal student loan rate is set to double this summer unless there is a change in government legislation.
Provo, UT (PRWEB) February 28, 2012
CNNMoney reports that the federal student loan rate is set to double this summer unless there is a change in government legislation. As educational costs rise, it is becoming more common to see individuals who go to school while simultaneously working a part- or full-time job. My Colleges and Careers offers students access to online schools that will allow them to fit their coursework around their work schedule and not their work schedule around their schooling. Doing so will allow many to continue to earn money sufficient to live on as well as pay their college fees while still taking classes. Once schooling is complete, they will not only have a college degree and qualify for higher paying jobs, but they will have far less debt than they otherwise would have had.
In 2007, government legislation set a cap on interest rates for student loans at 3.4 percent. This summer that cap expires and loan rates will return to 6.8 percent, the level they were at before the 2007 cap. Whether this cap will be put back into place or not remains to be seen. President Obama is presently lobbying that it be put into effect once again. However, it would cost $10 billion to do so and add to further the U.S. debt. Whether the loan rates are increased or remain the same, it can be a difficult challenge to pay for a college education. Many can see the benefit of furthering their education, but it is also tough when they know it will be years before they can pay off their debt. My Colleges and Careers can help students find alternative ways to decrease their cost of education. The easiest being to take online courses which can be adjusted to any schedule.
Tools that are featured on the My Colleges and Careers website provide valuable information and data to help students. First, tools can help individuals find the online degree program and school they are looking for. Whether they wish to pursue an online bachelor's degree, get a certification, or even complete an online Ph.D., website resources can help students find an ideal program. Second, students will be able to get data about different careers and salaries that may help them along their educational path. Third, the My Colleges and Careers online education blog features articles from various industry experts with tips and ideas about how to best take advantage of an online education. All of these things combined can ease the process of finding a school and figuring out how to pay for it. As the economy fluctuates in this difficult recession, many will find that earning an online college degree can improve not only their own quality of life but that of those around them.
About My Colleges and Careers
My Colleges and Careers is dedicated to helping students and prospective students earn their college degrees through online degree programs. Considering that most students have other responsibilities and commitments, My Colleges and Careers can become a great resource for those seeking a way to fit school into an already busy schedule. Through online programs, students can complete their schooling at their own pace. The tools and services offered on the My Colleges and Careers website have already assisted many students in completing their education and starting a successful career.
##