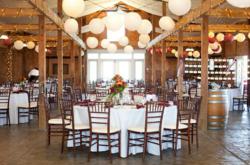 Red McCabe, Chairman of the Board states, "Supporting the Loudoun Free Clinic is a classic 'feel good' decision. Each $1 donated turns out $6 of medical care, helping sick residents with nowhere else to turn. Please, make us your mission!"
Bluemont, Virginia (PRWEB) October 19, 2012
Bluemont Vineyard and Cookology are hosting the Loudoun Free Clinic's next charity function: Boots, Beer & Barbecue on November 9 at 6:00pm. Click here to register today!
Blues BBQ will be serving up great BBQ and fixins at the event, along with McDowell Brew Kitchen who will feature both brew and BBQ. Local beer brewing Lost Rhino Brewery and Corcoran Brewing Company will be there to serve up their craft beer.
Tickets are $75 and all proceeds go to benefit Loudoun Free Clinic. Each vendor is donating food, brew, and music, and the list of volunteer vendors keeps growing.
On the tap for the evening will be some fun country line dancing and line dancing lessons, a photo booth and transportation points for those interested in getting a comfy ride to Bluemont, Virginia.
The Loudoun Free Clinic serves the medically un-insured of the county and creates a 'Gateway to Care' for those who cannot afford medical treatment.
The Clinic does not receive any governmental funding. Our sole source of revenue is the generous people and companies that donate to our cause. Red McCabe, Chairman of the Board states, "Supporting the Loudoun Free Clinic is a classic 'feel good' decision. Each $1 donated turns out $6 of medical care, helping sick residents with nowhere else to turn. Please, make us your mission!"